USA Hawks vs Leeds Rhinos January 17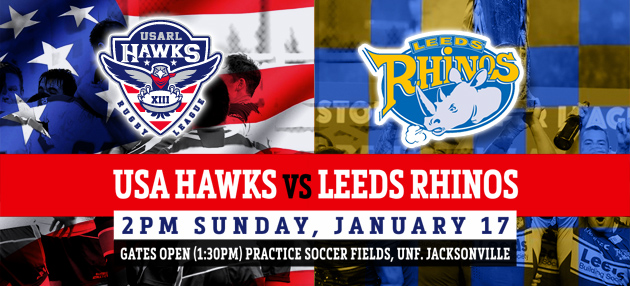 The game will take place on Sunday, January 17, at the Practice Fields adjacent to Hodges Stadium at the University of North Florida, and is part of the Leeds Rhinos annual Pre-Season Training Camp. Gates will open at 1:30pm for a 2:00pm kickoff.
The Hawks team for this game will be 100% selected from domestic resident players only, so not only will their be a number of familiar faces, but also a few new "up and coming" players who will be trying to open doors to the Hawks team for future international games. Again, we hope to fill the stands with as many fans as possible to scream USA, USA, USA!!!!
Local Axemen star, Jon Purnell, will be joined by Atlanta Rhinos Captain, Nick Newlin, and at least four other players from the recent World Cup Qualifiers. This of course opens up plenty of spots for new faces on the Hawks (residents) Team, and they will certainly be looking to state their case for future selections.
The big highlight will of course be the Hawks are now going to face their World Cup Qualifiers coach, as Brian McDermott returns to the Leeds Rhinos to prepare for the 2016 defense of their Championship trophies. This has opened up opportunities for new names on the coaching staff, and a number of domestic team coaches have stepped up to the plate, for this one game as an opportunity to experience coaching the national team.
Robin Peers (Boston 13s), Gareth Walker (Central Florida Warriors) and Billy Neilson (Tampa Mayhem) will lead the team from the coaching role for this one game against the Rhinos. They will also be assisted by Nick Newlin (Atlanta Rhinos) and CJ Cortalano (NY Knights), who were both players on the recent Qualifiers team, and will return as players to help retain consistency with the system that Brian McDermott implemented over the recent tournament. Bob Taylor (Atlanta Rhinos) will also make his national team managers debut.
Sean Rutgerson (Assistant & Conditioning Coach) has already started sending over programs for the player as the final selections are made. The Hawks team will be made available at the middle of this coming week.
Team Athletic Trainer, Mary Slover, will again help keep the Hawks players in prime condition and injury free.
In addition to the Leeds Rhinos team, there is also a large group of Leeds Fans and Supporters making the trip to Jacksonville this year, and we know the USA fans will show them some of the best hospitality on offer in the USA.
EARLY BIRD TICKETS are available for only $6.50 (+$1.35 EventBrite fee) at this online ticket site. (CLICK HERE FOR TICKETS)
Game day walk up price will be $10 at the gate, with kids 12 and under FREE as always.
SPECIAL "Join the Hawks" Tickets:
There are also 6 special spots for a "JOIN THE HAWKS" Experience. You will join the Hawks at 12 noon on Saturday (Jan 16) for afternoon training sessions, you will eat with the team during the evening meal, you will join them for team meetings, you will join them for the morning Captains Run, join them in the Locker room, you will sit on the bench with them during the game, AND you will eat with the team at the post game party.
There are only SIX of these spots on offer at $75 each. *YOU MUST have proof of Medical Insurance, and sign a "Liability of Risk Waiver" to participate in this offer. *You must be at least 18 years of age
For full information, and constant updates, we ask you all to follow the Facebook page for the Jacksonville Axemen (HERE) and of course the USA Rugby League (HERE).
We must also invite everyone to get on board with the LEEDS RHINOS as they once again, continue to help develop the sport of Rugby League in Florida and the USA. You can find all the info about one of the more iconic professional Rugby League teams in the World, at http://www.therhinos.co.uk