Hawks take flight to Australia in preparation for #RLWC2017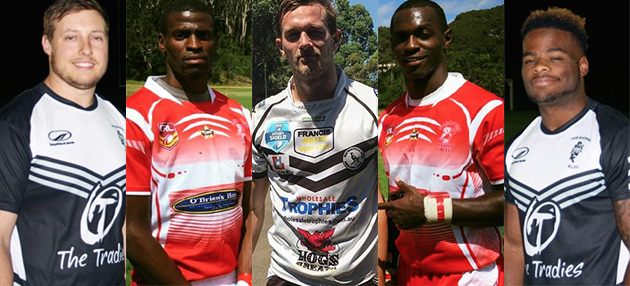 Following the USA Hawks winning the RLWC Qualifiers in Dec 2015, interest levels for both playing Rugby League and representing the USA National Team at the Rugby League World Cup 2017 have never been higher.
Curtis Goddard (Boston 13s). Sterling Wynn, Roderigus Ceasar (Central Florida Warriors), Ryan Burroughs (Northern Virginia Eagles), Curtis Goddard (Boston 13s) and Terrance Williams (Atlanta Rhinos) are now in Australia in the hope of fast-tracking their abilities to help them secure a spot in the 2017 Rugby League World Cup Squad for the USARL Hawks.
The clubs which are all based in the state of NSW, have jumped at the opportunity to develop, nurture and help prepare USA players for the upcoming World Cup held in Australia, New Zealand and PNG in Oct/Nov 2017. Their journeys are likely to inspire many other athletes from the USA and other eligible countries to follow in their footsteps.
USA citizens qualify to work and holiday in Australia on a (Temporary) visa (subclass 462) for for up to a year.
Curtis Goddard (Yass Magpies)
Curtis Goddard's bumper 2015 season included winning the USA Rugby League competition with the Boston 13s and making his debut for the USA Hawks in the first Colonial Cup game against Canada.
Goddard joined the Yass Magpies in the Canberra Raiders Cup. After four rounds of the regular season, his team has won one match, lost two and had one bye.
Goddard has been playing Prop for the Magpies and has been pleased with his overall development and is continuing to improve. One thing he has noticed as the biggest difference in the way that the game is played in Australia compared to America is the increased speed of the ruck and retreating around the play the ball.
"I have been rapidly improving my fitness and learning the nuances of the game. I hope that I'm playing the best footy of my career at the end of this season," Goddard said.
The move to Australia was all about seeing how far he could push himself and his career and he didn't want to be back in Boston with any regrets during the World Cup.
Following the RLWC qualifiers, Goddard assembled highlights reels to boost his chances of getting an overseas contract, eventually getting interest from teams across Australia. He has some simple advice for anyone else who is contemplating the move.
"Film. Press your team to record every game. Reach out to your exchange players and see if they would get your film in front of coaches and clubs." Goddard stated.
Since moving to Yass, Curtis has watched the Canberra Raiders play in the NRL and also saw the Canterbury Bulldogs defeat the South Sydney Rabbitohs in front of a crowd of over 35,000 people. Despite seeing these teams play, Goddard has found himself watching the progress of North Queensland Cowboys second rower, Gavin Cooper.
"The person who has supported me throughout this entire process and handled my contract negotiations is former NRL player Dustin Cooper (Gavin Cooper's brother and Curtis' Boston 13s coach/teammate). I would love to get a chance to play against Gavin Cooper in 2017 (World Cup)," Goddard said.
Roderigus Ceasar (Narooma Devils)
Roderigus Ceasar has made quite the name for himself after appearances in the Nines and regular season matches with the Narooma Devils.
In four matches of Rugby League with Narooma, Ceasar has scored seven tries (the most in the competition, including three tries in his last match) whilst playing on the wing and has earned himself several nicknames from the local newspaper, Narooma News, including 'Florida Flash,' 'Georgian Gelignite' and 'The Gazelle,' which are all based on his blinding speed.
The pre-season Nines tournament proved to be a great springboard for Ceasar; he scored 6 tries for the tournament, including three tries from his first three touches of the ball.
Ceasar supports the Parramatta Eels and is another fan of Semi Radradra. When you see his pace combined with his try scoring ability, you can see the similarities in their styles as well as potential that Ceasar has.
"My favourite thing about Rugby League is chasing kicks and scoring tries," Ceasar stated.
Roderigus was encouraged to play for the Narooma Devils by their friend and team mate, Lance Wright, who played for the Central Florida Warriors and had already played with Taylor Alley, who had also travelled from America to play with the Devils in 2014.
Despite the focus on Rugby League, Ceasar has enjoyed everything that Australia has offered him so far and has encouraged more players from the USARL competition to follow suit.
"It's been easy to make friends because everyone is so supportive and friendly towards the football team. The advice I'd give to others who are considering playing in Australia is just to take advantage of the opportunity," Ceasar said.
Ryan Burroughs (Wentworthville Magpies)
He may only be into his second year of Rugby League, but Burroughs has a non-nonsense attitude when it comes to his ambitions in Rugby League and wants to get to the highest level possible.
After making a significant contribution towards the Hawks' success in 2015, Burroughs
has joined his USARL Hawks teammates of Danny and Steve Howard who have helped him greatly throughout his journey so far.
Burroughs is playing for the Wentworthville Magpies (with the Howard brothers), a large club in Western Sydney, which has an enormous talent pool. This club has given Burroughs access to some great Rugby League minds, including his coach and former National Rugby League (NRL) Grand Finalist, Alex Chan. After nine weeks of competition, Burroughs' team sits in 6th spot (of 14 teams), winning five matches.
Despite being at a club that has plenty of talent, Burroughs has still managed to show his value to the team, scoring seven tries so far and in his second match he ran for a whopping 300 meters, scoring two tries and later being awarded the players' player of the match.
Burroughs has also played with the Ron Massey Cup team in the trials, which is just two tiers below the NRL.
Since moving to Australia, Burroughs has been able to see several NRL matches and has taken a liking to the skills of Semi Radradra, James Tedesco and Roger Tuivasa-Sheck, who have explosive speed and great stepping abilities.
Burroughs is honest about the difficulty in travelling and living in a foreign country, but has enjoyed it so far and is entirely committed to getting the most out of his time here.
"It's been quite easy to make friends. Everyone on my team has been extremely welcoming."
"I've been working hard since I got here, going to extra practises and doing my own workouts just to give myself that extra edge in every way I can."
Sterling Wynn (Narooma Devils)
After just a short time in Australia, Wynn has been able to show this whilst playing for the Narooma Devils, which is five hours south of Sydney. He scored a try whilst playing in the pre-season nine-a-side (Nines) tournament, helping his side make it through to the semi-finals, before narrowly losing to Batemans Bay.
"I hope to show that Americans have taken the game in back at home and actually know how to play," Wynn said.
His first few matches of the regular season have been spent at fullback and he moved into the centers for their fourth round victory last weekend.
Despite a positive start to his Australian Rugby League career, Wynn knows that there is always room for improvement and is optimistic about taking steps to improve his game.
"My first few matches have been pretty solid. I had a few errors that can easily be fixed with time but I also had some good tackles and good runs. The reason for me moving to Australia was to get better and play at a higher level of Rugby League, it's different to adjust to but I love it!"
Wynn's team has won two of their first four regular season matches and through the ups and downs of the four rounds he has gained appreciation for the finer details of the sport.
"My favourite thing about Rugby League is the game IQ you need to have in order to play," Wynn exclaimed.
Wynn celebrated his 22nd birthday in Australia and has found it easy to make friends in a new country as he has found the people from Narooma to be very welcoming.
When considering his short journey so far, Wynn is excited for the road and matches that lie ahead, encouraging more players to take the step to benefit their skills.
"I would tell any players to come and play if it's something they really want. Nothing will stop them from coming here besides themselves," Wynn stated.
Terrance Williams (Yass Magpies)
It has been a frantic start to Terrance Williams' Australian Rugby League career. The process of getting Williams to Australia was so fast that he found himself in Yass just three weeks after he was told the Yass Magpies needed a center.
Williams was the last of the five current USARL players to make the move the Australia and he has been given plenty of help from his teammate, Curtis Goddard.
Williams has only played two matches for the Magpies, which got off to the ideal start, winning 26-24.
In his second match, Williams ticked another achievement off the list, scoring his first try for the Magpies. This was unfortunately followed by Williams breaking his arm, possibly keeping him out of action for possibly 10 weeks.
Despite the clear setback, Williams is still determined to make the most of this time off the field and to continue his education in the game.
"I was devastated and became a bit discouraged but I've come too far to let something like this stop me. If you know me then you know something minor like this will not stop me from chasing my dreams," Williams said.
Williams has played with the Hawks and even the Leeds Rhinos, but still found his first two games to a very valuable learning experience.
"It was a wakeup call as far as my match fitness goes. The game speed and level of play here is so much faster. Made a couple of mistakes but I'm getting better with each training session!"
The transition into Australia has been made easy by the friendliness and curiosity of the people that he speaks to around Yass.
"It's been pretty easy to make friends here, they love my accent. Every time I go to the grocery store I end up having a five minute conversation with someone on why I'm here and where I'm from," Williams said.
In the Media: