USA Hawks Anderson and Robinson on Trailblazing with Red Star Belgrade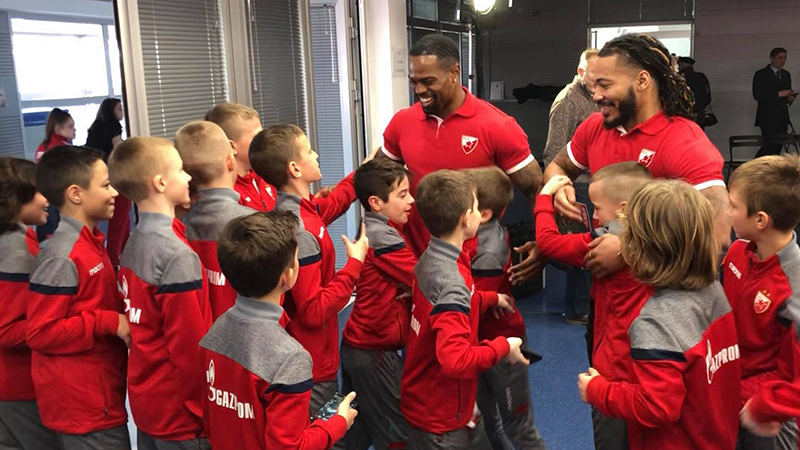 "You're mates with three quarters of your team. You can literally ring up and say 'hey, I'm in your city. Can you pick me up from the airport?' 'Yeah sweet, no worries, you can stay at my place!. That type of brotherhood. It's just so much more than a game. I swear to you" says Anderson.
Since Brandon was convinced to go to a rugby union academy after trialling for two NFL teams, and Jamil trialled in Toronto and Philadelphia for the Wolfpack before suffering an injury, the 13-man game has changed these two lives irrevocably.
Having met at the Tiger Rugby facility with vague plans of playing Sevens, USA's Dynamic Duo have a season in Australia - learning the finer points of the game on the run with Shellharbour in the Illawarra - before returning for a stint with the Brooklyn Kings and a spot on the Hawks' roster for the World Cup qualifier against Jamaica.
If that sounds like a whirlwind for a couple of league newbies, a Boy's Own adventure, you ain't seen nothing yet.

A couple of months after a World Cup Qualifiers loss in which Anderson's role was limited due to a hamstring injury, they had been whisked away to Eastern Europe and the trailblazing Red Star Belgrade Rugby League Club.
Red Star are part of the sporting society of the same name that also includes one of the world's most famous soccer club. They are owned by Australian engineering magnate Colin Kleyweg and have been instrumental in setting up an international Balkan Super League, as well as being the domestic competition''s best side.
From Belgrade. Anderson and Robinson made history - playing in the Serbian club's first appearance in the famous British knockout competition, the Challenge Cup, on January 27 in chilly Cumbria. Although the locals, Millom, scored a comfortable victory Anderson and Robinson are living proof you can often see more of the world as a part-time sportsman than you can in the pressure-laded world of the NRL or Super League pro.
Not that either of them would pass up the opportunity to join those ranks.
"The thing with being American rugby league player is convincing people you might be able to possibly play," Jamil, in a separate phone conversation, tells us.
"I don't know what more I can do to prove to people I can play at that level. You can't be the best unless you get the opportunity to play with the best. It's not just about improving your game all the time and working on your skills and your knowledge, it's where you go and who you talk to."
After the 38-10 loss at Millom, Robinson, club chairman and coach Brett Davidson found that not knowing the right locals left them sleeping overnight in a chilly dressing room at the world's oldest amateur club.
"We went to a pub across the road with some Millom players, locals & the owner of the hotel we were staying at," Davidson recalls rueful.
"The taxis stop at midnight and the hotel owner said he'd get us home. He disappeared so we went back over to the clubhouse, no-one around, slept in the sheds & got the first train back to (our hotel) at seven in the morning."
Jamil says his recollection was a little different; "it wasn't that late - we got back to the hotel eventually!"
Americans sleeping in Cumbrian dressing rooms with Serbian team-mates … rugby league is at once as rough-hewn as ever and more cosmopolitan than at any time in its history.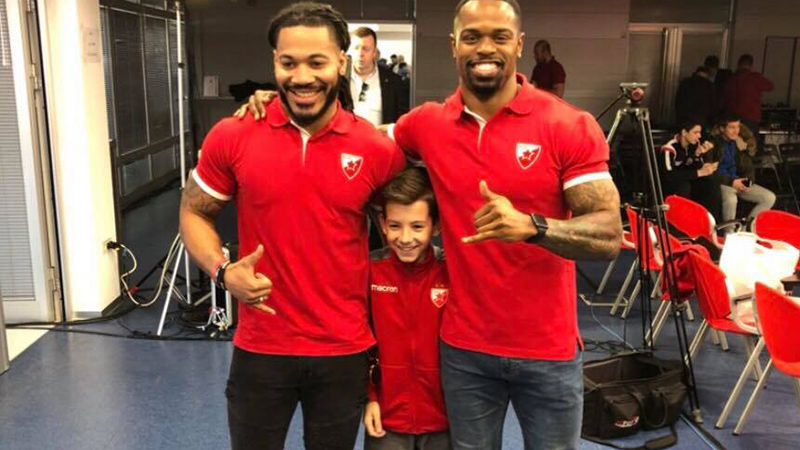 We brought Jamil and Brandon over to help expand the greatest game of all in Serbia," says RSB owner Colin Kleyweg. "Their role is to play, be ambassadors of the club, help in the setup of the 2019 academy and to promote rugby league throughout Serbia, the Balkans and Europe."
Only Serbia, the Balkans and Europe? These guys can get that done before lunch.