Joe Eichner enjoying Rugby League Down Under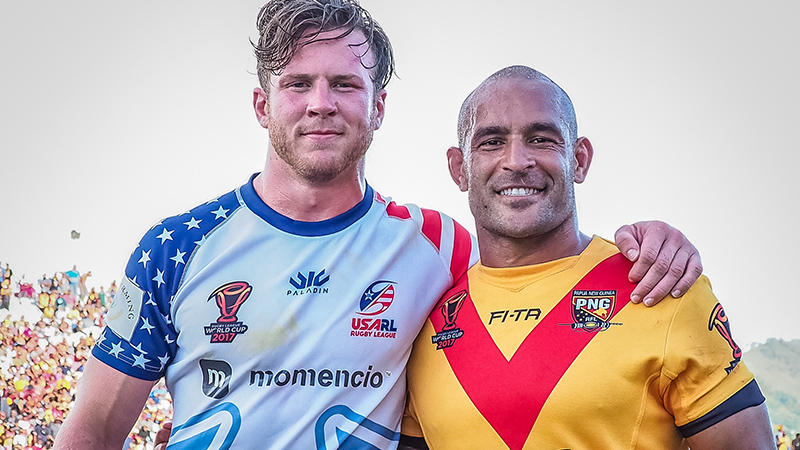 The robust forward is hitting it up with the Junee Diesels in the Group 9 competition based in Wagga Wagga in the southern New South Wales Riverina region.
As is the case with most rugby league comps down under, it's a long, grinding 16-game regular season and Eichner says playing in the engine room is very demanding.
"As of right now, they have me playing backrow for first grade," he said. I'm pretty comfortable in the middle as well. Depending on injuries, I'm sure I'll get some minutes at 13 as well this season. The comp is pretty similar to what I was facing in England last year, but there's always more to learn."
"We have some very experienced players on the team, as well as a great coach that are helping me to improve my game."
His pathway to Junee wasn't a random thing. Eichner had been in touch with Diesels club president Simon Vanzanten since last year's World Cup on the urgings of several of his connections who helped firm up his decision to opt for Junee.
"An old Jacksonville Axemen mate Hayden Diggins put me on to his home town team once he heard I was interested in coming to Australia.
"It just so happens, fellow USA teammate Tui Samoa was also going to be playing for Junee and helped convince me to sign. With further confirmation from Luke Srama, I made it official," said Eichner.
He says the club has been amazing so far. They set him up with a place to live, a job and match payments so life is sweet.
"I'm loving it here. Junee is a very small town, but the people are great. I spend a lot of time in Wagga which is a short drive away and offers a bit more excitement."
The international forward says while the learning curve can be steep at times, he believes it will definitely be a benefit to his playing career.
"Playing the game as much as I can in general is going to help me improve my skills," he continued. Really anywhere you go in Australia they live and breathe league, so the skill level/knowledge of the game is much higher than back home."
With the likelihood of the Americas region qualifying series for the 2021 Rugby League World Cup being held towards the end of year, Eichner wants to be back home in time in the event he is selected for the national team.
"As of right now that's the plan," he added.
"Our season finishes somewhere around the end of September/first week of October, so hopefully everything is finalized sooner than later.
"I'm looking forward to the qualifiers and really towards the next World Cup."