Tampa Makes it Back-to-Back Wins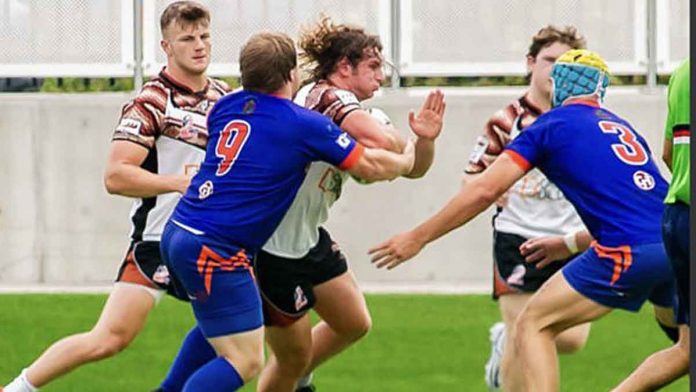 By Brian Lowe, Senior Editor rugbyleagueplanet.com
The Tampa Mayhem have continued on their winning ways with a second straight victory against the Southwest Florida Copperheads in the USA Rugby League (USARL) South Conference.
Tampa posted a 20-6 scoreline on the road at the Paradise Coast Sports Complex in Naples, Florida, on Saturday in Round 3 action.
The game was disrupted by severe lightning strikes, which forced an extended halftime break of about 90 minutes and cut the match a little short.
The visitors led 10-0 at the break and split their try-scoring evenly with two in each half.
The try-scorers were prop and co-captain Justin Branca, lock Andrew Zuluaga, winger Jon St John and five-eighth Peter Garlando, who also booted two conversions to round out the Mayhem's scoring.
Tampa head coach David Ulch says unlike their opening game a week ago, this time they stayed the course in the second half.
"We only completed 39% of our sets in the first half and had a string of knock-ons, but in the second half we were at 72%, so we were much better," he says.
"We've only played one opponent for two games at this point and the Copperheads definitely had some improvement and their marker play was definitely better, but we need to improve more on the offensive side because it'll be a good test when we play Jacksonville in a couple of weeks."
"That's something we've got to work on in practice as far as grip and carry, being able to retain the ball and not making stupid passes. Just keeping the ball under control and completing our sets."
As far as the Copperheads are concerned, they feel that they made a significant improvement, particularly on the defensive side of the ball.
"We were a lot tougher in our middle third and handled Tampa's big middles a lot better than the previous week," says assistant coach Colin O'Dell.
"However, we just put ourselves under enormous pressure with way too many handling errors and piggybacking penalties."
"The defending we did was a good effort, we just did way too much of it to give ourselves a chance to win through our own errors and concentration lapses."