Inaugural 9's Tournament May 28 in Conshohocken, Philadelphia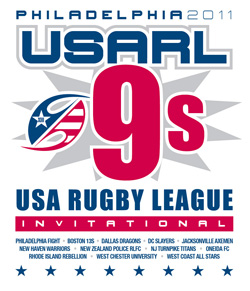 The Philadelphia Fight Rugby League Club LLC is hosting the inaugural USA Rugby League 9's ("You always remember your first one!"). It will be held on Saturday May 28 at the Fight's home field, A.A. Garthwaite Stadium, located at 11th Avenue and Harry Streets, Conshohocken, PA 19428, USA.
The NZ Police will be touring the USA with  former NZ Warrior and Melbourne Storm player Wairangi Koopu.  Their coach is New Zealand 7's legend Matua Parkinson.
11 USA teams & NZ team have confirmed:
Philadelphia Fight
Boston 13s
DC Slayers
Orange County Outlaws
New Haven Warriors
New Jersey Turnpike Titans
New Zealand Police
Oneida FC (2nd Boston team)
Rhode Island Rebellion
Utah Avalanche
West Chester University
West Coast All-Stars
Rugby league nines (or simply nines) is a version of rugby league football played with nine players on each side. The game is substantially the same as full rugby league (13 a side), with some differences in rules and shorter games. Nines is usually played in festivals, as its shorter game play allows for a tournament to be completed in a day or over a single weekend. It has become more popular than the similar rugby league sevens (rugby league with seven players to a side), with many tournaments using nines to distinguish it from rugby union sevens.
The laws of the game are the same as standard rugby league laws with the following exceptions.
Each team is allowed a squad of up to fifteen players, with no more than nine players on the field at any time. Unlimited substitutions are allowed from a named bench of four players.
The match lasts for 15 minutes, divided into two halves of 7 minutes 30 seconds. There is no half time interval but teams are allowed a maximum of 1 minute to change ends. Each half starts with a place kick.
Scrums consist of no more than 5 forwards, with a maximum 3 in the front row and 2 in the second row. When the ball is in the scrum no more than 4 players from each team shall act as backs. The ball must emerge from behind the feet of the second row.
Conversions after a successful try take the form of drop kicks. Players from the team that has conceded the score do not have to retire behind the try line but must not interfere with any conversion attempt.
When points have been scored the team against which points have been scored will restart the game with a tap restart from the centre of the half-way line.
General admission cost will be $7 for the day with kids under 12 free.
A full concession stand will operate during the day along with a beer garden that will have specials all day as well. We will have give aways (hats, tshirts) and games for the kids to participate in during breaks in between games.
Two local hotels are supporting the event by offering rates ranging from $89-129. (Residence Inn by Marriott-Conshohocken, PA; Radisson Hotel Valley Forge, PA)