North vs South ALL STARS more than just an exhibition game.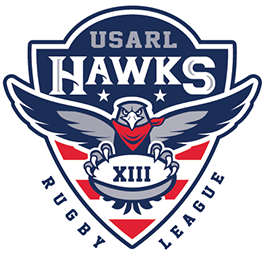 The National Team for Rugby League in the USA, the HAWKS, have started their selection process for upcoming games against Canada in September and October, and then the Rugby League World Cup Qualifiers, that will be staged in Florida during December of this year.
"Not only will fans get to see the two best teams in the country play for the National Championship," said Peter Illfield USARL Chairman. "But they will see the best players from across all teams in the USA play for a spot on TEAM USA.
Some of these players will go on to play for the USA HAWKS at international level, and this provides an opportunity for fans to get to know them and follow their progress as they help the USA qualify for the 2017 Rugby League World Cup during the Americas Qualifying Stage that will be played this December, right here in Florida."
USARL North Conference vs South Conference Curtain Raiser to C/ship Final UNF, Jacksonville August 29, 2015
North Conference Team
Ryan Burroughs - Eagles
Roman Lowery - Fight
Andrew Stockhecker - Rebellion
Justin Hackett - Eagles
Michael Timpano - Fight
Richard Henson - Fight
Matthew Walsh - Wildcats
Andrew Kneisly - Fight
Charles Cortalano - Knights
Casey Clark - Fight
Tone Rodriguez - Kings
Joseph Reichert - Eagles
Kevin Wiggins - Black Foxes
Jared Frymoyer - Fight
Shaniyat H Chowdhury - Kings
Abraham Cohen - Knights
Tristan Sylk - Fight
John Vella - Sharks
Tyree Reeves - Slayers
Mike Schacter - Wildcats
South Conference Team
David Aguilar - Axemen
Richard Alleger - Axemen (Knee injury)
Tyler McClain - Axemen
Jon Purnell - Axemen
Michael Scott - Axemen
Ian Ferguson - Black Foxes
Austin Brautigam - Mayhem
Anthony Flores - Mayhem (Broken Ribs)
Josh Heath - Mayhem
Bryan Phelps - Mayhem (Herniated Disc)
Patrick Reive - Mayhem
David Ulch - Mayhem (out)
Bryant Alexander - Eagles
Taylor Alley - Warriors
Kenny Britt - Warriors
Roderigus Ceasar - Warrior
Josh Jackson - Warriors
Bart Longchamp - Warriors
Richard Mizell - Warriors
Christian Rossi - Warriors
Gareth Walker - Warriors
Brett Witte - Warriors