Big Scores Mark Latest Round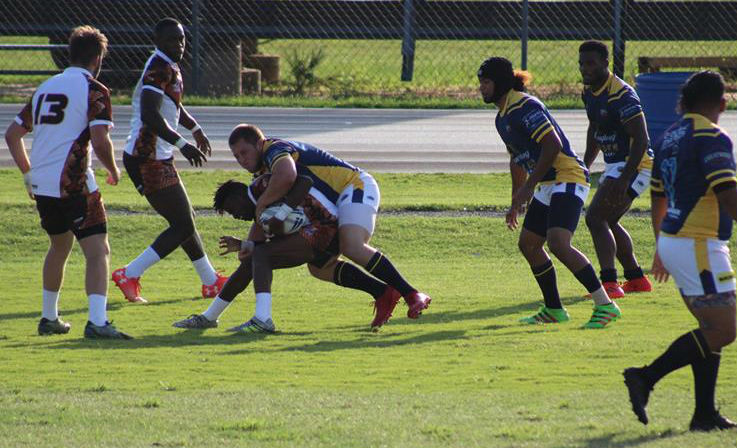 Several teams reached the half century mark, including the Brooklyn Kings, New York Knights, Jacksonville Axemen and Tampa Mayhem, while a number of players scored multiple tries.
NORTH Conference
The Knights bounced back from their opening round loss by posting a 50-16 victory over the Boston 13s Saturday night at Pier 40 in New York.
New York was too good for a limited, but brave Boston side that didn't give up and benefited from a dynamic spine.
"On our side, we improved defensively since our soft performance against Brooklyn," says Knights head coach Guillaume Cieutat.
"Not there yet with our offensive system and too much waste close to the goal line. It's a work in progress."
New York's Troy Doyle was named Man-of-the-Match.
Elsewhere, the first placed Brooklyn Kings kept their unbeaten record intact with a 76-0 shutout of the Delaware Black Foxes Sunday night.
Right center Jay Robinson scored four tries, while Brandan Anderson picked up a hat-trick.
"We completed 15 of 15 of our sets to start the game and I was really impressed with our 85 per cent overall completion rate," said head coach Brent Richardson.
"The big thing for us was our defense, we didn't miss any tackles."
And in the other NORTH Conference fixture, the White Plains Wombats got a 30-0 result in their favor.
SOUTH Conference
In the main rivalry game in Atlanta Saturday, the defending champion Rhinos were upended 52-36 by the Jacksonville Axemen in a high-scoring thriller.
The game was played in steamy conditions with the temperature hitting the high 90s by kick off.
In what was literally a back and forth match until around the 70th minute when the Axemen finally took control, both teams had players who scored three tries apiece. Axemen second-rower Jed Pearce led the way for Jacksonville, while Atlanta halfback Sam Cowley did likewise for his team.
Jacksonville center Tyler McClain and Rhinos forward Irving Carcamo each scored a pair of tries.
"They kept hanging in there kind of like their grand final win and it took a lot for us to get over the top of them," said Axemen head coach Sean Rutgerson.
The hard-hitting affair in the heat took its toll on both teams and in Atlanta's case in particular three players, including a second-rower, center and their captain Nick Newlin, left the game with injuries.
"I think it was a good measuring stick for us as to where we need to be," said Newlin. "We may be the defending champs, but we kind of know based on the roster Jacksonville has that they may be the team to beat in the South."
In the other SOUTH Conference Round 2 matchup, the Tampa Mayhem downed the Southwest Florida Copperheads 52-22.
The Mayhem's player/coach David Ulch was away overseas, but Justin Branca and Jon St John led the charge both notching hat-tricks.
Copperheads founder Curtis Goddard says it was a massive improvement on their first game against Atlanta as they completed a lot more sets of six and got into scoring position, which resulted in more points on the board.
"However, our defense is still an issue as we still let up around the same amount of points as last week," he said. "The boys will focus on doing even better about getting back 10 and staying flat on defense this week in training."
Scores:
Jacksonville Axemen 52-36 Atlanta Rhinos
Tampa Mayhem 52-22 Copperheads
New York Knights 50-16 Boston 13s
White Plains Wombats 30-0 NOVA Eagles
Brooklyn Kings 76-0 Delaware Black Foxes