Rhinos Open Title Defense with Solid Win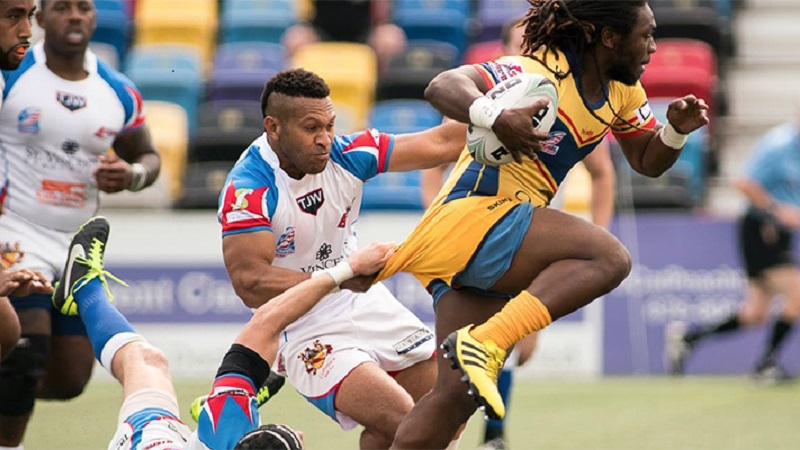 On a day when Justify made horseracing history by becoming the 13th winner of the Triple Crown, the Southwest Florida Copperheads hosted the reigning national champion Atlanta Rhinos, but it was all one-way traffic as the champs won 58-6.
The Rhinos got their season off to the best possible start by scoring early and never being headed.
"I don't want to say we were nervous, but we were a little uneasy and unsure of what to expect," said Rhinos captain Nick Newlin.
"We're hurting a little bit on numbers this year with some guys moving on after the championship season. We had some guys at the last minute put their hand up ready to play that had never played league before, so we didn't really know what to expect. But our core of six, seven guys that have been playing now for four or five years really stepped up and took charge on the field and got the new guys involved and got them comfortable which is really a key factor."
On a typically hot and humid spring day in south Florida, storms rolled through Lehigh Acres, near Fort Myers, just before kickoff to cool things down and make for better playing conditions.
The new home team tried hard throughout the 80 minutes, although with a roster full of debutants, it was tough sledding. The closest they got was 12-6 about twelve minutes into the game but trailed 30-6 by halftime.
Atlanta also fielded a team containing several new players having their first hit-out in rugby league and one of them, replacement Irving Carcamo, had a dream debut scoring a hat-trick of tries.
He came on not long after the Copperheads had scored their try and had an immediate impact. The rugby union player from Charlotte, NC, scored all three of his tries in the first half. Another Charlotte union player Ty Elkins also made the trip to Florida for the Rhinos and had an excellent game.
Atlanta center Terrence Williams was another of the many Rhinos' try-scorers.
Atlanta is one of several cubs in the USARL that have player/coaches this season. Englishman Joe Cowley, who has been a regular starter for the Rhinos since joining them in their second year, has stepped into the role to take over from former coach Jordan Smedley who returned to Australia.
At halftime, he encouraged the team to complete their sets, keep their composure and not let the Copperheads back into the game and that's exactly how things panned out.
"Got to complement the Copperheads though," added Newlin. "They came out there, they never backed down and hit till the last whistle.
"You can tell they've got a lot of potential. They've just got a lot of young guys that are new to the game."
For the Copperheads, their lone try-scorer was import hooker Tyler Lenardson, who plays for the Corrimal Cougars in the Illawarra region of New South Wales. His score was converted by center Jude Kermundu.
"We did not fully achieve our two goals of staying flat on defense and finishing all of our sets of six for the full 80 minutes," said Copperheads founder Curtis Goddard.
"However, we now know what it takes physically, mentally and emotionally to fulfill these goals in this competition. We will learn and grow, and I know that because the 17 men selected Saturday exemplified our two core values, work ethic and coachability, and did not give up on themselves or each other. Everyone was humble, everyone checked their ego, everyone was learning for all 80 minutes and everyone stayed positive regardless of the scoreline. The great news is our senior leadership can help guys like this because they are excited about the game and want to be helped. We are going to have a big week of training and look to improve even more next week against a strong Tampa Mayhem team here at home."
Atlanta wanted to get their season off to a winning start, particularly as they host an improved Jacksonville Axemen next week in what has become a heated rivalry game in the South.
The plan was to get their new players some confidence ahead of what shapes up as a very competitive game.
Meantime, in the NORTH Conference, the Brooklyn Kings (2-0), Philadelphia Fight (2-0) and White Plains Wombats (1-1) all posted wins in their Round 2 matchups.
Scores:
Atlanta Rhinos 58-6 Southwest Florida Copperheads
Brooklyn Kings 46-20 Northern Virginia Eagles
White Plains Wombats 36-30 Boston 13s
Philadelphia Fight 40-16 Delaware Black Foxes