Hawk Eichner to share tourist information carefully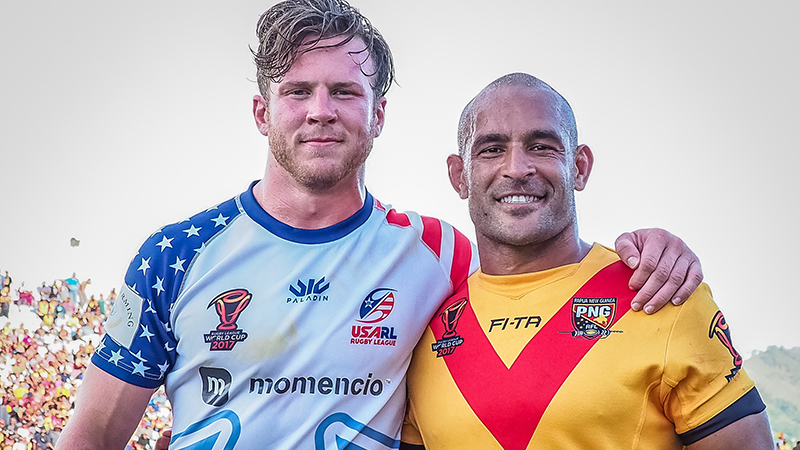 USA media man extraordinaire Nate Gladdin mused on a recent podcast episode that the Hawks won't be intimidated by the Nines 'group of death' they share with Australia, New Zealand and Papua New Guinea later this month.
Speaking on his popular Rugby League In America show, Gladdin reasoned that many of the USA team playing at the World Cup Nines at Bankwest Stadium did not follow Down Under's NRL closely enough to recognise most of the superstars they'll be facing.
That's where Hawks back rower Joe Eichner comes in … or maybe doesn't.
Eicher, a 27-year-old mainstay in the national team, has just signed for his second season at Cairns-based Queensland Cup side Northern Pride and is all too aware of the southern hemisphere stars' abilities.
"As soon as I saw our pool, I thought 'Australia? Damn! That could be James Tedesco, that could be Kalyn Ponga, that could be anybody'," he says from north Queensland. "Anybody on the Australian team is going to be insane. 
"It's going to be hard keeping a straight face with the boys, saying 'yep, you can handle this guy, yeah you got him, no problem, don't worry about it'. 
"But I'm going to try not to make anybody else's highlights reel, either. I'm just hoping we put on a good show and we hold our own."
The Floridian is one of a growing number of Americans who have seen a lot more of the world through the 13-man game than they ever dreamed possible.
A qualified project engineer, Eichner was an early signing of Canada's Toronto Wolfpack, allowing him to experience rugby league in its birthplace of Britain - and then decided to try his luck in the Antipodes.
 "My first introduction to rugby was at the University of North Florida where I was playing union for the Deadbirds," the deft-handed Eichner recalls. At the end of my sophomore year, our coach at the time convinced me to go out for the local league team, the Jacksonville Axemen. After two seasons with the Axemen, I was selected by the USA Hawks to play Jamaica and Canada in the Colonial Cup/Americas Cup."
Eichner went on to represent the Hawks at the 2017 World Cup in Australa and Papua New Guinea. "I wanted to progress my career here," he said.
"I spoke with a few buddies who were playing for the Junee Diesels at the time - including USA Hawk Tui Samoa - and made the decision to sign with them for the 2018 season."
It was former Axemen head honcho Daryl 'Spinner" Howland, now back in Queensland, who encouraged Joe to head north after his introduction to 'bush footy' in country New South Wales.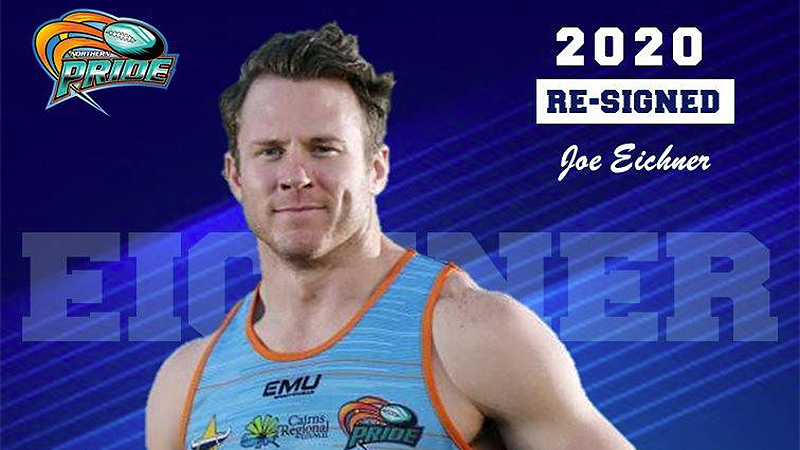 "He did a lot for me in helping with getting a second year visa and putting me in contact with Chey Bird at the Northern Pride. I owe a lot of my success in Australia to Spinner. 
"It was about round five that I got a phone call from Chey that they were happy with my progression and wanted to sign me on a developmental contract for the rest of the season. 
"I didn't expect to get any playing time, I was working more towards being contracted for the next season. It was a great surprise when they informed me I was going to be debuting against the Burleigh Bears."
Eichner - who held his place for the rest of the season in the tier below the NRL - says he'll take knowledge about "the fundamentals" back home with him when it comes to the 13-a-side game.
Nines? Perhaps he'd be on safer ground advising his Nines team-mates on life away from the field Down Under rather than scaring them about the men they will play against on October 18 and 19.
"Australia is a wild place to live," he says. Everyone only hears about the big cities like Sydney or Brisbane but you don't get to truly experience it till you visit the little towns. I backpacked up the coast from Wagga Wagga to Cairns over a three-week trip and you come across some eye opening experiences. A lot of people have trouble with the accents and even more with the slang,"
So forget how to stop Damien Cook and Boyd Cordner; here's the sort of advice Joe Eichner will stick to in Sydney the week after next: "Get yourself a meat pie - but not from the servo (gas station)," he says.
"It has to be from a bakery."