Meet USA Hawks star Connor Donehue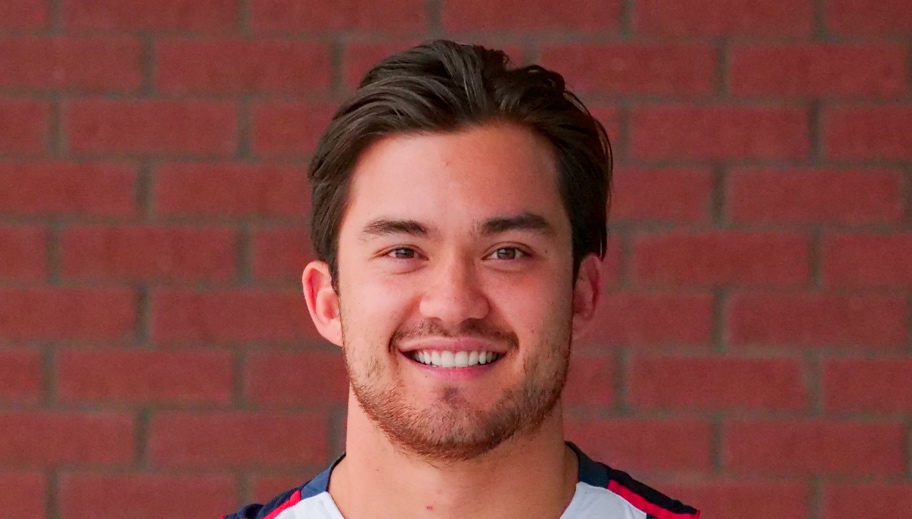 THERE'S been much hand-wringing about the impact of wrestling and - in particular - Brazilian Jiu Jitsu on rugby league worldwide. But without it, the USA Hawks would never have discovered their new utility sensation, Connor Donehue.
You see, the father of the 23-year-old California-born hooker or halfback is the man at the centre of the whole trend, John Donehue - Melbourne Storm's wrestling coach for the last decade and a half.
In fact, without wrestling, young Connor would literally not exist!
The man who will face up to some of the NRL's biggest stars at the World Cup Nines next month explains: "my dad was traveling … he went over there and trained.
"He was training with (Mixed Martial Arts celebrities) Gene Lebell, Randy Couture, all those kind of guys, did Brazilian Jiu Jitsu and a bit of everything.
"He was over there for just under 10 years, met my mum over there. I was born over there, my sister Caitlin was born and then we made the decision to come over to Australia and we've lived here in Melbourne ever since." 
Now, despite playing host to one of the globe's leading rugby league franchises, Melbourne is the capital of Aussie Rules football. Young Connor tried his hand at plenty of sports there before finding his true calling.
"I was playing tennis. I was playing AusKick - AFL footy - and rugby league, rugby union. I didn't like as much because I was brand new to a club, I got put on a wing for two seasons. I never saw the ball. "In under 12s, it was a good year. Then I made the Victorian (rugby league) side and I changed positions and went to lock and hooker, a bit of halves."I started getting more involved. I played (local) first grade in Melbourne when I was 16. I played a couple of games against men when I was 16!"
Promoted to the Storm's system, he got an early taste of the jetset lifestyle associated with professional sports. Every weekend, the club would fly him to Brisbane to play in a higher standard of under 16s competition.
"I played a couple of years of SG Ball (Under 18) with the Melbourne Storm.  I went through the grades there until I was about 20. I was in a rookie squad. I still had to work but I got to train with first grade for an entire year. 
"I did a Storm pre-season, came to the Sunshine Coast and I ruptured my achilles in a game. I ended up coming back to Melbourne and doing my own training. Luckily enough I had a year left on my contract."
Donahue says he's never heard of Fraser Kendall, the man behind Minelab's sponsorship of the USA Hawks. But we can reveal Fraser changed the course of Connor's life by telling national coach Sean Rutgerson there was an eligible player competing at a high level Down Under. "I got a random message from Sean Rutgerson," Connor recalls, unaware until now of who made the connection.
That connection is now leading Connor to a new adventure - a contract with USARL side Brooklyn Kings, under Hawks assistant coach Brent Richardson, for the seaosn just passed.
"I ended up going up there (to Brooklyn), meeting all the boys, meeting Brent. I hadn't signed for a club. I was going to go back to Queensland, play up there.
"Just the fact that I could live and work in New York, just that whole experience - I was really interested in it. I could still play footy and it's not massive commitment because it's not a long season. While I've got this USA heritage and citizenship, I thought I should just take advantage of it.
Donehue's first taste of the red, white and blue was the World Cup qualifier against Jamaica last year, followed by the victorious Americas Nines campaign in Toronto.
"It had been so long since I'd been in a camp where they put you together with with a group of people I didn't know, some guys who had played a heap of games for the USA and others who were making our debuts," he recalls.
"It was really welcoming. The culture that Sean's bringing into the team was really good. 
"Athletically, a lot of the boys are insane. But it's just different how in Australia you pick up the game so much easier - as in how the game works and strategies, that sort of thing. 
"We had six (foreign-based) players in the team and we really drilled that into them. They had to do their jobs. That was the hardest bit. Once we got that going, it was a really good camp, a good experience.
"Unfortunately we just didn't get away with the win and we have to go again later this year."