Inaugural Americas Nines Tournament May 18 in Toronto
The tournament will be held on Saturday, May 18 at Lamport Stadium, home to the Toronto Wolfpack with kick-off at 1pm.
Josh Knight, Vice President of Canada Rugby League welcomed the event, saying: "Rugby League Nines is an exciting spectacle for the fans and we are ecstatic to showcase the international version of this game to the fantastic rugby league fans at Lamport Stadium, affectionately known to Toronto Wolfpack supporters as The Den."
"Wolverines are known to protect their dens and we will certainly do that come May 18th, when we attempt to win this wonderful tournament," Mr Knight added.
Jamaica head coach Romeo Monteith says the tournament is a landmark event for the region as it looks to bolster a rolling calendar of competition which includes a Nines tournament every two years.
"This tournament brings an exciting product to the Americas and offers players, fans and sponsors a great chance to further celebrate and grow the standing and rugby league in the Americas," Mr Monteith enthused.
Off the back of a successful Americas Championship campaign in November, Jamaica Reggae Warriors believe they have what it takes to dominate the Nines format as well.
"We are looking forward to Jamaica's participation in the Nines; we have all the attributes suited for this version of the game - pace, skill, strength and talent," Jamaica RL Vice Chairman Adrian Hall said, "and this is what we will bring to the tournament."
Jamaica will face tough competition as the USA Hawks and Canada Wolverines look to redeem themselves.
The Americas Rugby League Nines Cup will take place every two years beginning in 2019 at Lamport Stadium in Toronto. Countries participating are Jamaica, USA, Canada plus the combined Latin American team which has been running since 2013s. The 2021 Americas Rugby League Nines Cup is looking to include more South American countries plus women's teams.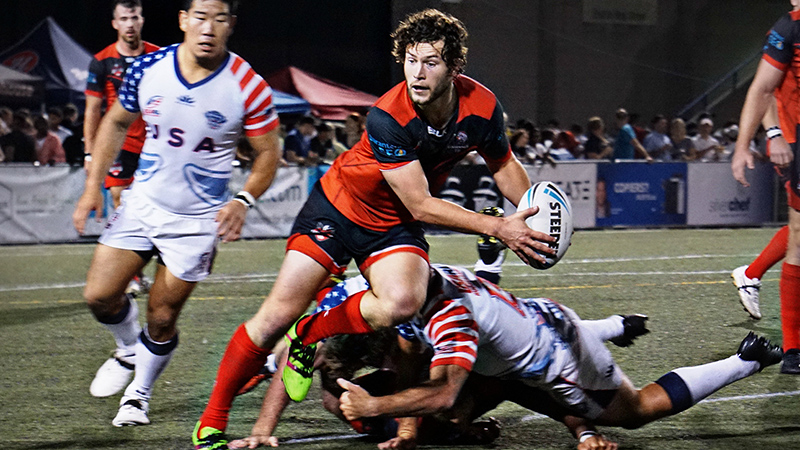 USARL chairman Peter Illfield agrees the tournament provides opportunity for growth. "This event provides the Americas an opportunity to look ahead to 2021 with the USA hosting the Americas Nines. This should include more South America participants and hopefully the introduction of Women's Nines Championship and Armed Forces Cup."
"It's an opportunity to expose additional players to high level football and we look forward in playing our part in growing rugby league in the America's through this exciting new tournament."
GAME DAY INFORMATION
Date: Saturday, May 18. 1pm kick-off.
Lamport Stadium, Toronto CA
ONLINE TICKET SALES COMING SOON
STREAMING DETAILS COMING SOON
About the Americas Rugby League Nines
Rugby league Nines (or simply Nines) is a modified version of rugby league played with nine players on each side competing over two nine-minute halves. Nines is usually played in festivals, as its shorter game play allows for a tournament-style competition with a champion crowned over the course of a day or weekend.
Americas Nines Championship Format - Rules of Rugby League .
Each nation will provide a team with 17 players for the tournament
Each game will consist of a team fielding 13 players, with no more than nine on the field at any time. Unlimited substitutions are allowed from a named bench of four players.
The game lasts for 20 minutes, divided into two halves of nine minutes. Two-minute intervals allow the teams to change ends.
Each half starts with a place kick.
Scrums consist of no more than five forwards, with a maximum three in the front row and two in the second row. When the ball is in the scrum, no more than four players from each team shall act as backs. The ball must emerge from behind the feet of the second row.
Conversions after a successful try take the form of drop kicks. Players from the team that has conceded the score do not have to retire behind the try line but must not interfere with any conversion attempt.
When points have been scored the team against which points have been scored will receive a drop kick from the team that scored (must travel at least 10 meters) to restart.