Jacksonville Posts Another Big Win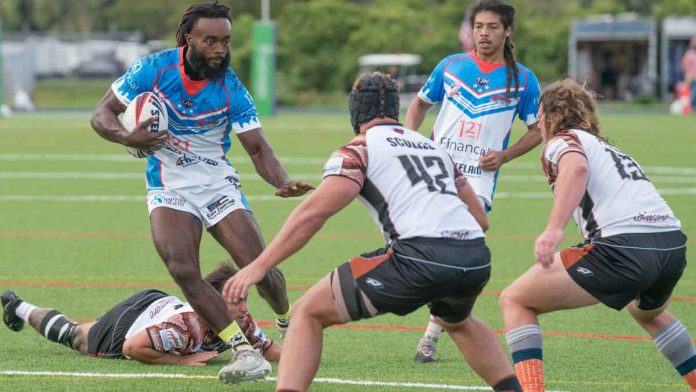 Photo Credit: Allene Rachal
By Brian Lowe, Senior Editor rugbyleagueplanet.com
The Jacksonville Axemen have stamped themselves as the team to beat in the USA Rugby League (USARL) South Conference with another massive win.
Playing at home Saturday in front of a vociferous fan base at the University of North Florida, the Axemen thumped the visiting Southwest Florida Copperheads 70-16 in Round 5 action.
Jacksonville led 40-4 at halftime and Axemen head coach Sean Rutgerson was pleased with the overall result.
"Happy with the performance," he says. "Still got lots to work on."
Rutgerson says one Jacksonville player who deserves a special mention is Malcolm Webb. The Axemen's lock was the top point-scorer in the game with four tries to his name.
Other players who got on the scoresheet were fullback David Washington and winger James Williams with three tries apiece. Center Tony Robinson, wing Vashon Marrs and reserve forward Josh Westerlund chimed in with a try each. Five-eighth Luke Findlay booted seven conversions and hooker Mason McCrory kicked two.
On the flipside, SWF Copperheads assistant coach Colin O'Dell says while Jacksonville is a well-drilled side, it doesn't excuse what was ultimately a poor performance by his team.
"There was a lack of concentration and intensity right from the kickoff, which just snowballed, whereas Jacksonville worked as a team in both attack and defence," he says. "We were playing as individuals and the scoreline reflects that difference.
"However, the scoreline isn't a reflection of the difference between the two teams and the only choice we've got now is to go away, do some serious thinking and hard work and prove that we're a better team than that when we welcome Jacksonville to Naples in two weeks' time."
The other scheduled South Conference game of the round between the Tampa Mayhem and South Florida Speed wasn't played as the Miami-based team forfeited.