Axemen training camp draws 6 nations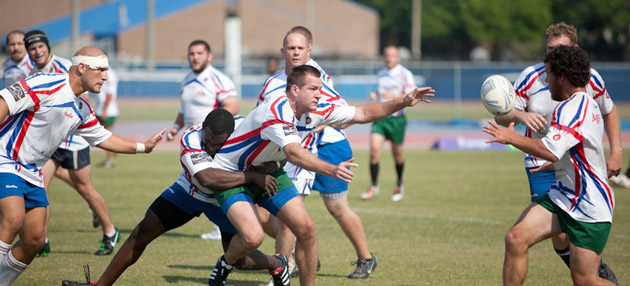 38 athletes from the USA, Australia, New Zealand, England, France and even 2 from Papua New Guinea attended day one of the Axemen open training camp. Former American Football players, Wrestlers and Lacrosse players make up the mix of rookies.
"The scrimmage was a great way for us to find out if a player has the mental strength to play Rugby League as the rookies get to go full speed against the veterans in their effort to earn a roster spot", said Axemen coach Spinner Howland. "The scrimmage is designed to let us do a few things.  We get to see if skills and basic plays have been retained from the morning sessions, and we also get to see how the guys perform under fatigue. The morning is pretty tough and it really takes some mental attitude to come out focused and aggressive enough to play full contact after a long day of practice. It is time for the guys to prove they are as tough as their mouths made them out to be earlier in the morning.
"This is the best event for our new fans to come an experience Rugby League," said co-founder Drew Slover. "There are plenty of veteran fans who are great at explaining the game to new comers and with the extra breaks in play, it allows a little more time for the game-day staff to explain what is happening on the field."
The Axe Maiden Cheerleaders also performed their routines and fine tuning any needs before the full season gets under way.
Following the scrimmage, all the fans and general public were invited to join the players and cheerleaders at Time Out Sports Grill to meet all the players who will become the 2011 Firehouse Subs Jacksonville Axemen.