USA Names Train-On Squad for RLWC Americas Qualifiers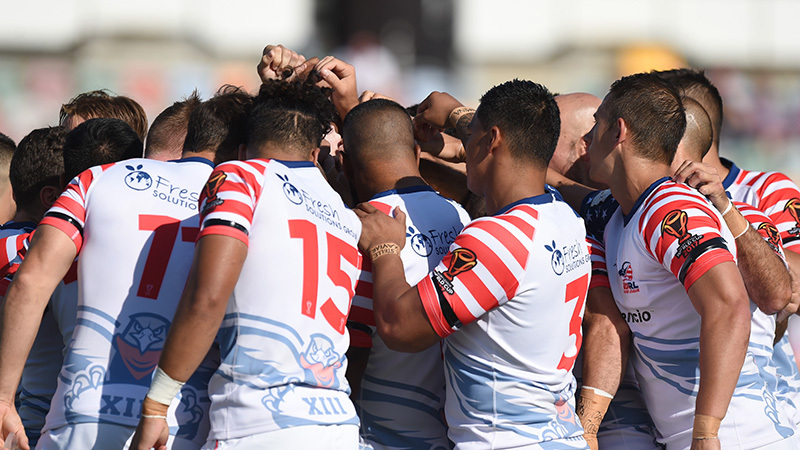 The 30-man squad is a mix of players with international experience and others who are hoping to make their debut at the higher level, as well as a healthy contingent of domestic-based players, plus a number of heritage players who have previously represented the United States.
One of the veterans in the squad is Andrew Kneisly, who got his first call-up to the national team for the original Colonial Cup series against Canada in 2010. The Philadelphia Fight forward has been a regular member of the team ever since.
This will be Kneisly's third qualifying series and he believes he'll benefit from his experience.
"I think I'm now a much more knowledgeable player and knowledgeable athlete. I know how to prepare myself even better. I have an understanding of how working as a team is important."
Because the format for this series will differ from past qualifiers in that there will be two doubleheaders within four days with the winner of both rounds advancing, Kneisly foresees compressed recovery sessions.
"Overall having a strong train-on squad we'll be prepared, and I think everyone's enthusiastic to give their best and make sure that we get the results we're looking for."
The squad features several new faces hoping to step up to a higher level for the very first time, including David Washington.
The young winger had a stellar domestic season with the national champion Jacksonville Axemen.  Barely a game went by when he didn't score, and he ended up being one of the club's leading try-scorers in just his third year of rugby league.
"I'm pretty stoked. To be selected for the train-on squad is fantastic and amazing."
However, exciting as it is to be named in the squad, the speedster admits to being nervous.
"After the last two All-Star matches, the talent on the squad is top tier, so I've got to keep myself at that level also which is nerve-racking for me. I feel like everybody we're going to play is powerhouses, so I think we'll need to come together and work as a team."
The qualifiers, to be held from November 13-17, 2018 will return to Jacksonville, Florida, the city where they were last held in 2015. In that series, the USA defeated Jamaica and Canada to qualify for the 2017 RLWC.
Prior to that, the USA was victorious when the RLWCQ were staged in Philadelphia in 2011 and USARL Inc chairman Peter Illfield says hosting the Americas qualifiers for a third straight time is recognition of the USA's ability to put on successful rugby league events.
"It is absolutely a feather in our cap and will give us a very good start. Coach (Sean) Rutgerson coaches in Jacksonville and the guys are familiar with playing these qualifiers there in 2015. Anything on home soil, or anywhere on home soil is always an advantage to the home team providing they keep that in perspective and don't lose focus on the games themselves."
Illfield goes on to say that this is a premier event that doesn't come without hard work and that has been recognized by the RLIF in awarding the qualifiers to the USARL.
USA 30-man Train-On squad:
Sean Hunt, Nick Newlin (Atlanta Rhinos), Ryan Burroughs (Barrow Raiders), Mike Elias (Boston 13s), Brandon Anderson, Rafeal Mendez, Jay Robinson, Dane Wilcoxen (Brooklyn Kings), Jerome Veve (Burleigh Bears), Joel Luani (Canterbury-Bankstown Bulldogs), Chris Wiggins (Delaware Black Foxes), Bureta Faraimo (Hull FC), Junior Vai Vai (Hull KR), Kyle Grinold, David Washington (Jacksonville Axemen), Joe Eichner (Junee Diesels), Chris Frazier (NOVA Eagles), Kyle Denham, Andrew Kneisly (Philadelphia Fight), Cory Makelim, Mark Offerdahl (Sheffield Eagles), Curtis Goddard (Southwest Florida Copperheads), Connor Donehue (Sunshine Coast Falcons), Cody Blackwell, Justin Branca (Tampa Mayhem), Eddie Pettybourne, Sonny Pettybourne (Toulouse Olympique), Danny Howard (Wentworth Magpies), Kristian Freed (Wests Mitchelton), CJ Cortalano (White Plains Wombats)