South takes out USARL All Star clash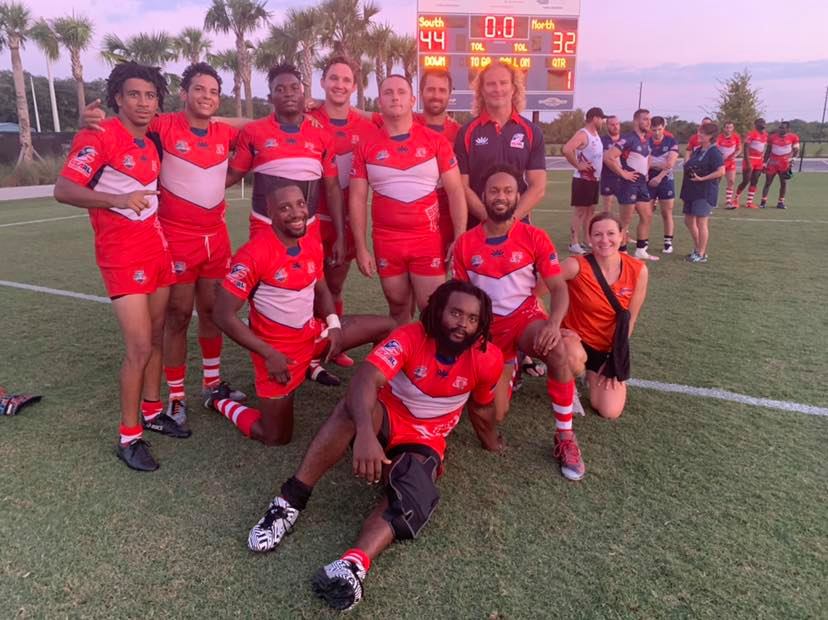 SOUTH has continued its domination of the annual USARL All Star game with a high scoring victory over North in Tampa.
In America's major domestic representative game, the South were down 22-10 at halftime but fought back to win 44-32 at Tampa's Tournament Sportsplex.
Jacksonville's James Williams, at the end of his first season of rugby league, was named man of the match.
The All Star game was introduced in 2015 and in each match since, South has won. The biggest winning margin, however, had been six points.
Williams showed his MVP form with an early break while team-mate Bart Longchamp performed a spectacular aerial spiral in a tackle. North prop Quenton Craddock scored the first try at 10 minutes with Dave Ulch awarded another not long afterwards despite the suggestion of a forward pass.
Matt Walsh's conversion made it 10-0 to the visitors.
It was Axeman Williams who scored his side's first points after a Josh Jackson break in the 15th minute and when Jade Kermundu chased his own kick to touch down, it was 10-10.
But Chris Wiggins' barnstorming touchdown edged the northerners back in front and halfback Walsh scored the next eight points to bring up the halftime ledger.
A giant right-handed palm piloted centre Cody Blackwell over the try tryline not long after the resumption of hostilities to narrow the margin once more to six with Ulch's conversion.
We were level-pegging again at 50 minutes when South's Jon St John crossed and Ulch added the extras, setting up an enthralling final half hour.
First, Longchamp scored a converted try out of dummy half for the South, then Roderigus Caesar - a late inclusion for Kevin Wathen - pounced on an error at the back from the North and the home side extended its lead to 34-22. He scored again in the 71st minute to seemingly put the game out of reach for North.
But Keith Jones and Sean Hunt posted quick-fire tries to set up a nervey finish for the locals, who were only assured of victory when Williams crossed in the final minute after fielding a kick.
Winning coach Sean Rutgerson said: "We played with a back rower at hooker, another back rower at half and a center at six.
"Our smaller guys played well, making little half breaks and they struggled to get hold of them .
"And when I say smaller,  I think if you add all of their combined weights up it would be about 100kg! But they kept sneaking through.
"Aside from James, Jamaal Fitzgerald came off the bench and he has only played six game total ever.
"A great effort to stick with it from all of them."
Teams:
SOUTH: David Thomas; David Washington, Josh Jackson, Cody Blackwell, James Williams; Jude Kermundu, Dave Ulch; Nick Newlin, Sean Hunt, James Campbell, Malcolm Webb, Bart Longchamp, John Purnell. Res: John St John, Justin Branca, Jamaal Fitzgerald, Hunter Lawson, Roderigus Caesar.
NORTH: Kyle Granby; Tristan Sylk, Keith Jones, Sterling Wynn, Tyler Leradi; Andrew Kneisly, Ryan Burroughs; Chris Frazier, Kevin Reed, Oshin O'Neill, Quenton Craddock, Matt Walsh, Dave Greiner. Res: Anson Jiang, Chris Wiggins, Brock Davies, Derek Trahan, Ian Ferguson.
SOUTH CONFERENCE 44 (Williams 2 Roderigus 2 Kermundu Blackwell St John Longchamp tries Kermundu 4 Ulch 2 goals) beat NORTH CONFERENCE 32 (Craddock Ulch Wiggins Walsh Jones tries Walsh 4 goals) at Tournament Sportsplex of Tampa Bay.