2021 USARL Grand Final on Saturday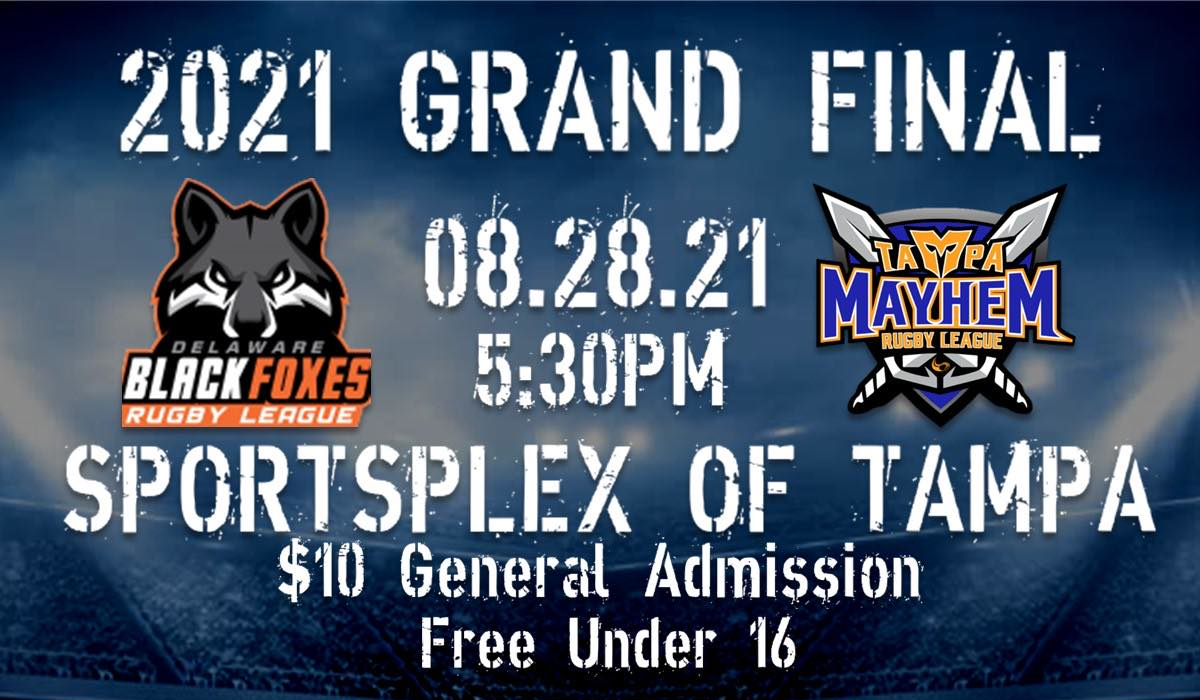 The 4-and-2 All Insurance Underwriters Tampa Mayhem will host the 3-and-1 Mine Digital Delaware Black Foxes on Saturday, August 28, in what will be a history-making USARL National Championship game. This is the first appearance for both teams so no matter who wins, it will be a new name on the trophy.
Tampa are eager to make an impression as hosts, booking as the venue Tournament Sportsplex of Tampa Bay, 9330 E Columbus Dr. in Tampa. This will allow for having full concessions and a beer garden. For those who can attend live, kickoff is at 5:30pm (doors open at 4pm) and tickets can be purchased in advance for $10 each (under 16's free) at eventbrite:
https://www.eventbrite.com/e/2021-usarl-national-championship-tickets-167604105391
For those not able to come out on Saturday, the Mayhem are also planning a high-quality live stream. To tune in, be sure to subscribe to the Tampa Mayhem channel on YouTube:
https://www.youtube.com/channel/UCFvEl0TFJwoi5FHR5c6eU1g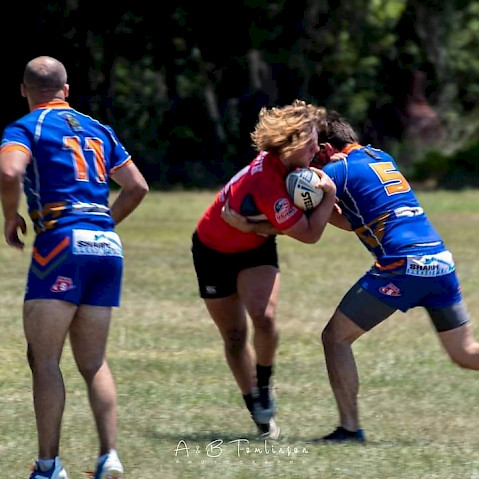 With the season behind them, we asked the teams what they've learned heading into the Grand Final. Tampa's Billy Neilson said, "I've learned a lot about myself as a coach this year.  I've had the privilege of talking to some pretty high-level coaches and was able to pick their brains for a bit. That helped me greatly in regard to getting the message across to my boys on what it was going to take to get to the Championship."
We also spoke with Delaware's Ian Ferguson. His takeaway? "Just keep grinding. Whether it be injuries, covid, or anything else outside of our control we just kept working towards our goal of building this team into a title contender.  When our season was cancelled last summer I just continued to recruit players and coaches, talk to sponsors, and kept the goal in sight for when we were finally able to step back onto the pitch this year."
"A lot of teams were not able to play rugby league this year for a variety of reasons but I'm thrilled that we still had our season and now have an opportunity to take home some hardware."
It was certainly a year filled with challenges. "Our biggest challenge this year was finding a grounds to play our home games," said Neilson, "we had a venue pull out last minute and that left us scrambling."  Meanwhile the North Conference faced unique circumstances. "Getting matches was definitely a challenge for us due to many rugby league teams being unable or unwilling to play us," said Ferguson, "we resorted to playing 7s and 15s during our bye weeks just to develop chemistry and cohesiveness between our players. It was a bit of a struggle at first but since then things have been coming together nicely."
Despite these problems, they pressed ahead.  "For Delaware this Grand Final appearance is 7 years in the making," Ferguson told us. "We started back in 2015 and each year we've tried to build and improve this club on and off the field. We know Tampa has a strong side and, like us, they're hungry for their first shot at a Grand Final victory.  It's certainly been a strange year for rugby league here in the USA but we're excited to represent both Delaware and the USARL North for the chance to take home the trophy this weekend."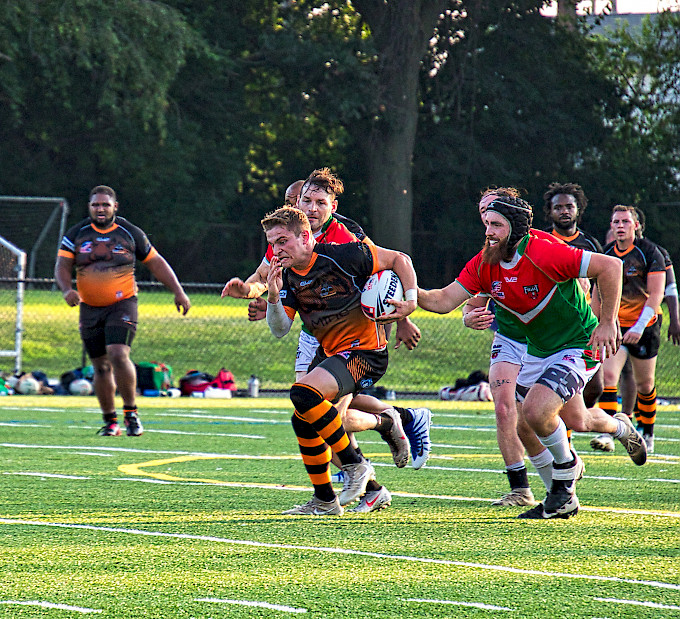 When we asked Neilson and Ferguson if they were more nervous or excited about the National Championship game, they both agreed: excited. "We are all really excited about our first crack at a final in front of our home crowd," said Neilson. "With the city of Tampa having a pretty strong streak on championships recently, we have a bit of added pressure to keep 'Champa Bay' going."
"We're certainly excited," Ferguson agreed. "We have a lot of talent on this squad and we know Tampa does as well so I'm expecting a hard fought 80 minutes (or more) this weekend.  Ultimately we're just going to play our game and leave it all out on the field.  It's always exciting when you get the chance to play in a Grand Final.  I was fortunate enough to win a couple back in 2013 & 2014 and I'm thrilled that now my teammates and I will have the chance to go for one with Delaware this time around."