Draw for this Weekends 9's Announced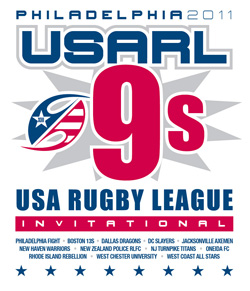 The 12 team draw for this Saturday's USARL 9's is official. See below for times of games that include local team the "Philadelphia Fight" as well as special guests the "New Zealand Police Rugby League Team".   The USARL 9's is this Saturday May 28 at the Fight's home field, A.A. Garthwaite Stadium, located at 11th Avenue and Harry Streets, Conshohocken, PA 19428, USA.  Gates open to the public at 8:30am.
To learn more about the 9's click here.
POOL A
NZ Police A1
Utah Avalanche A2
DC Slayers A3
POOL B
Phila Fight 1 B1
W. Chester Uni B2
Oneida B3
POOL C
NH Warriors C1
Phila Fight 2 C2
NJTP Titans C3
POOL D
Boston 13s D1
RI Rebellion D2
OC Outlaws D3
Pool Matches
Time
Game
Team 1
v
Team 2
 
 
 
 
 
 
 
9.00
1
A1
V
A2
 
9.30
2
B1
V
B2
 
10.00
3
C1
V
C2
 
10.30
4
D1
V
D2
 
11.00
5
A1
V
A3
 
11.30
6
B1
V
B3
 
12.00
7
C1
V
C3
 
12.30
8
D1
V
D3
 
1.00
9
A2
V
A3
 
1.30
10
B2
V
B3
 
2.00
11
C2
V
C3
 
2.30
12
D2
V
D3
 
 
 
 
 
 
 
Semi Finals
3.00
13
3rd Pool A
V
3rd Pool B
Bowl
3.30
14
3rd Pool C
V
3rd Pool D
Bowl
4.00
15
2nd Pool A
V
2nd Pool B
Trophy
4.30
16
2nd Pool C
V
2nd Pool D
Trophy
5.00
17
1st Pool A
V
1st Pool B
Cup
5.30
18
1st Pool C
V
1st Pool D
Cup
 
 
 
 
 
 
Grand Finals
6.30
Trophy
Winner Game 15
V
Winner Game 16
 
7.00
Cup
Winner Game 17
V
Winner Game 18