2018 Season Preview at a Glance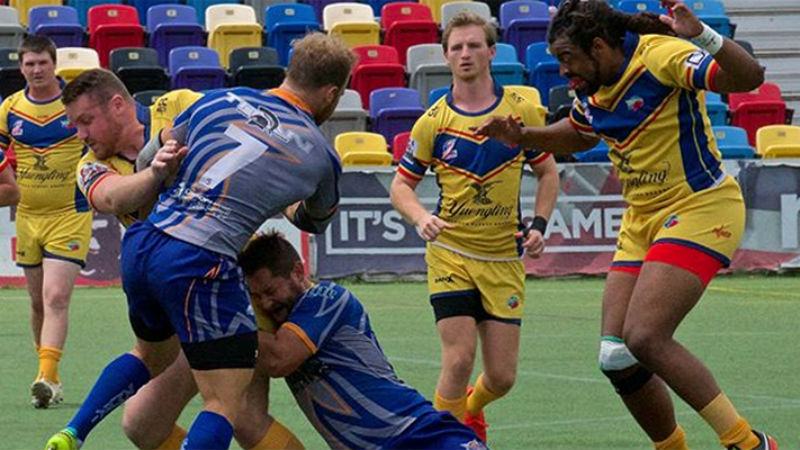 So, what can we look forward to in 2018?
For one thing, the schedule for the NORTH Conference has been restructured to make up for the Rhode Island Rebellion dropping out due to problems trying to fill a team.
That has created an uneven number of teams (7) and as a result, the regular season will consist of six games rather than eight as in previous years with one team having a bye each week.
However, on the plus side, six of the seven teams in the NORTH will qualify for the playoffs.
In the SOUTH Conference, the Copperheads, a new team based in southwest Florida, will take the place of the Central Florida Warriors, who have been forced to take a hiatus this season.
NORTH CONFERENCE
By virtue of winning the conference last year, coupled with their long history, the Knights are expected to be one of the teams to beat. Head coach Guillaume Cieutat says while losing the 2017 championship game was painful, it was also a valuable experience and one they are building on.
The other team in the big apple, the Brooklyn Kings, who were defeated by the Knights in the NORTH Conference final, will be looking to go one better this year and with coach Brent Richardson recently being named USA Hawks assistant coach they're tipped as a team that could potentially challenge for the title.
Another Empire State team that got into the playoff mix last season, the White Plains Wombats, have been busy in the offseason adding to their roster. They've brought in local rugby players, as well as three imports in Jamie Abbas, cousin of Hawks' co-captain Mark Offerdahl, Dylan Booth and Thomas Stevenson.
Last year's fourth playoff team, Northern Virginia Eagles, will be looking to improve on their 2017 record in which they batted .500 (4-4) and have appointed Joe Reichert as their new head coach. He was assistant coach last year and a two-year NOVA player prior to that.
2015 USARL national champions, the Boston 13s, have also named their coach for this season in a move they hope will boost their fortunes. Former Wales rugby league captain Peter Lupton will guide the club for a second year in what the 13s hope will be a return to the success of that stellar season three years ago.
Going into their fourth season are the Delaware Black Foxes and one of their main objectives will be to ensure they're one of the six teams that advance to the playoffs. Among the players leading the charge toward that goal will be Martwain Johnston, who made his international debut for the USA at last year's World Cup.
And the Philadelphia Fight is another team that will be hell bent on getting back to its winning ways and into the money rounds. The Fight are celebrating their 20th year as a club playing rugby league in the USA (AMNRL 1998-2010) and (USARL 2011-present).
SOUTH CONFERENCE
Now to the SOUTH, where the SERL Conference again looks set to be as competitive as ever.
The Atlanta Rhinos go into the competition as the reigning champions having beaten the New York Knights in the 2017 national championship game in Atlanta.
"This is all we wanted," said Rhinos captain Nick Newlin after that game. "This was the toughest game of club rugby league I've ever played."
Newlin and eleven other domestic-based players went on to represent the USA Hawks at the 2017 Rugby League World Cup after what, at times, was a grueling season at home.
As defending champions, the Rhinos can expect opposing teams to lift in every game as they are the gold standard going into the new season. Atlanta had an unbeaten record in 2017, but they're well aware that it's difficult to replicate that kind of effort and go back-to-back the following year.
The Tampa Mayhem came closest to beating the Rhinos last year when they tied 30-30 late in the season and again appear to be a genuine threat. USA Hawk David Ulch is Tampa's new player/coach, while owner/CEO Billy Neilson has just been named Hawks' team manager, those appointments giving the Mayhem extra impetus.
Up in north Florida, the Jacksonville Axemen are poised for another tilt at a national title and will be guided by Hawks' head coach Sean Rutgerson. One of their players to watch is Australian hooker Lachlan Bristow, who scored a hat-trick of tries and booted a boatload of conversions in their big preseason win against the Wombats.
"I'm pretty happy with how we started," is how coach Rutgerson summed up their effort.
As mentioned above, expansion team the South Florida Copperheads are set to debut in the SERL and like everyone else have expectations of being competitive. Their most experienced players Roderigus Ceasar and Sterling Wynn, both of whom have played in Australia, will lead the way along with club founder Curtis Goddard, who also has experience playing down under.
So, there you have it, a look at how the 2018 season shapes up. Let's hear your feedback and who will represent both the NORTH and SOUTH in the championship final.