Knights Want to Belong to USARL Elite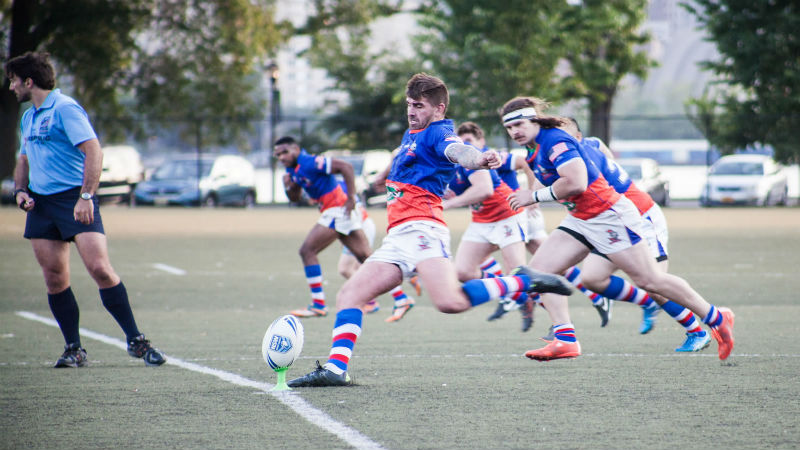 The club has put the disappointment of last year's championship loss behind it and according to head coach Guillaume Cieutat the players know the only way to achieve their goals is to earn them.
"Winning silverware, as a primary objective, is a dangerous distraction in my opinion and it's too often driven by selfish motives," he says. "Playing good, consistent and smart footy is our #1 objective, not winning which is just the result.
"Losing a Grand Final is always a painful experience for the playing group and the coaching staff, but it's also a very valuable one. I think we learned a lot from that game and even if there were valid factors that affected our preparation (e.g. travel on game day, logistics), we were still in a position to win that game at kickoff time and we failed in that respect. What is interesting for us now is less to digest what went wrong that day and more to focus on taking the next step in our development as a group. That's basically what is exciting in 2018: exploring the headroom in our collective potential."
This year's Knights squad is 90 per cent identical to that of 2017. There are a couple of new and returning faces who the team hopes will add value where it was a bit short last year, but otherwise no drastic overhaul.
Coach Cieutat says New York is also making a couple of positional changes that are the consequence of players' maturity and/or appetite to take on more responsibilities.
And he says even though the NORTH Conference is down a team, it will still be competitive.
"I'm not expecting an easy ride by any means! We probably have a target on our back from last year that I'm sure will be a source of extra motivation for our opponents. I know it sounds a bit lame, but the only pressure we have is to play our own brand of football. This group has been playing together for the last three years, so reaching a mature stage of football is truly the objective and it's not an easy one to achieve. Playing according to our strength, mitigating our shortcomings, patience under the pump - these are characteristics that are pretty hard to develop at a team level, so we have a lot of work in front of us."
Looking ahead to this season, Cieutat says it will be a success if the Knights can look back at the end of it all and say they were a solidary group of guys who were organized, were hard to beat week in week out and genuinely had fun.