Flyer Ryan Burroughs living the dream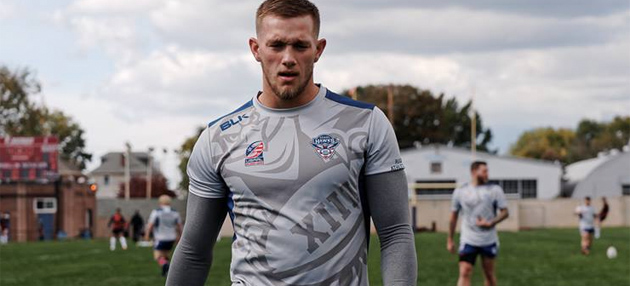 By Jennie Reid
He's already on the USA Rugby League national team, The Hawks' roster, and is looking forward to the Rugby League World Cup Qualifiers-Americas beginning December 4th in Jacksonville, FL.
Burroughs' rugby league skills have transpired from his time playing football with Liberty High School in Virginia, thanks to his rugby player friend, Chris Frazier. Not knowing anything about rugby, and not being one to turn down a challenge, Burroughs took up Frazier's convincing suggestion to "give it a shot" and he quickly fell in love with the sport of rugby.
Burroughs's rugby union teammates and friends from Blue Ridge Rugby (a D3 rugby team in Virginia) brought him to the NOVA Eagles rugby league team, where they also play. They sensed that he would become very fond of rugby league, and again, once introduced, he fell in love with it. He says that the NOVA organization has been outstanding as a whole, and has done so much to make him a better rugby player, improving skills like passing, positioning, and overall knowledge of the game.
"Rugby League means the absolute world to me, there is nothing else like it. The adrenaline you get, the big hits, the big runs. It's on a level of its own," says Burroughs.
There is definitely a high level of physical and mental toughness required for athletes in rugby league. Since transitioning from football, where Burroughs came out of a game to have his hand taped for a broken finger, his mental and physical toughness in rugby league has enabled him to play through entire games with a dislocated shoulder and broken ribs, "never batting an eye," he says.
Formerly, before rugby league, he was a conservative man, who "let his actions speak louder than words." Burroughs says that rugby league "has shown me how to be a "Field General" in some aspects." He's been able to become more vocal on and off the pitch with his teammates.
"I've learned a great deal of mental toughness."
Burroughs's first reaction when he heard the news that he made the USA Rugby League National Team and the World Cup qualifiers squad was excitingly emotional. When starting this year's rugby league season, his goal was to make the USARL Hawks' roster and represent his country. "It brought tears to my eyes seeing my name on it for the first time," Burroughs said.
Much of Burroughs's success is grounded on his religion and the encouragement and advice of his older brother, Chris Burroughs. Chris always told him that he was good at everything he tried. His brotherly advice was, "Ryan, stop trying to be good at everything and go be great at one thing."  Rugby league was without-a-doubt Burroughs' obvious choice to become great at. He continued, "I want to be great and nothing will ever stop me from achieving greatness, nothing! I am a follower of Christ and I can do all things through him who gives me strength. Philippians 4:13."
From the experience of playing for the USARL Hawks, Burroughs is expecting an abundance of rugby knowledge to come his way, where he hopes to absorb all the information he can to make himself and the team better.
"Anyone who has ever played a sport wants to compete at the highest level possible."
Burroughs had stellar performances for his first ever rugby league season this year and constantly improves to continue paving the way to greatness. "This being my first season ever of rugby league I feel that I accomplished a lot," said Burroughs.  Not only did he score 33 trys, but he improved as the season went on. His biggest learning curve and improvement has been learning how to play his position the correct way and be in the right places at the right time.
Physical conditioning is very important to Burroughs and he trains daily, switching off with field sessions at the track, gym sessions, and rugby league training. His physical skills aren't the only admirable quality he demonstrates in rugby league, as he is also an inspirational mentor to his teammates and most notably, a young man named Demetri Hill. Demetri plays for the 19U team and told Burroughs that he hopes to share the pitch with him one day.
"That meant the world to me. Hearing things like that always make you want to keep at it and see who else you can inspire."
Burroughs' work ethic, constant progression, and love of the game are inspiring. He's always giving advice to his teammates when he can, encouraging them, and telling them to "leave everything they have on the field."
We are blessed to be witnessing the beginning of skyrocketing success for Burroughs on the path of his dreams to "be at the top." Burroughs says, "I want to play the best in the world, on the biggest stage in the world. I want to show everyone who said I would never go anywhere with this sport, how far I can go!"
Rugby league is not a major league sport in the USA, but as more and more people like Burroughs are getting introduced to it, they are drawn towards it and their hearts are set on keeping at it. "I just don't think enough people know about it yet," said Burroughs. "Anyone who has played football that plays rugby league loves it. We just need to keep growing the sport as much as we can, and I believe the USARL Hawks team going to the World Cup and kicking butt will do just that."
The Hawks' training squad for the World Cup Qualifiers-Americas has been selected and Burroughs is thrilled to meet his new teammates and their new Head Coach, Brian McDermott. He's not looking to play with anyone in particular, but he says "everyone that was picked is everyone I want to play with. The guys I got to play with in the first two matches against Canada were great men. I was extremely honored to share the field with them just like I will be, come December."
The Hawks will be assembling as a team a few days before their first match in the World Cup Qualifiers-Americas to collectively pursue their rugby league passion, taking it all on the field and learning to operate as a cohesive team of promising talent. They will be set to carry out continuous learning, improving, and unifying, while exhibiting the power and passion of the rugby league athletes on the USARL Hawks team.

The Rugby League action begins with the USA Hawks vs Jamaica Reggae Warriors at UNF on Friday Dec 4 @7pm. Spec Martin Stadium, Deland will host the Jamaica Reggae Warriors against the Canada Wolverines on Tuesday Dec 8  @7pm. Closing the tournament will be USA vs Canada on Saturday 3pm @UNF in Jacksonville.
USA Hawks vs JAMAICA Reggae Warriors
Friday December 4, 7pm | Gates Open 6pm
University of North Florida, Jacksonville
JAMAICA Reggae Warriors  vs CANADA Wolverines
Tuesday December 8, 7pm | Gates Open 6pm
Spec Martin Stadium, Deland, FL
USA Hawks  vs CANADA Wolverines
Saturday December 12, 3pm | Gates Open 2pm
University of North Florida, Jacksonville