Joe Eichner on Running with the Pack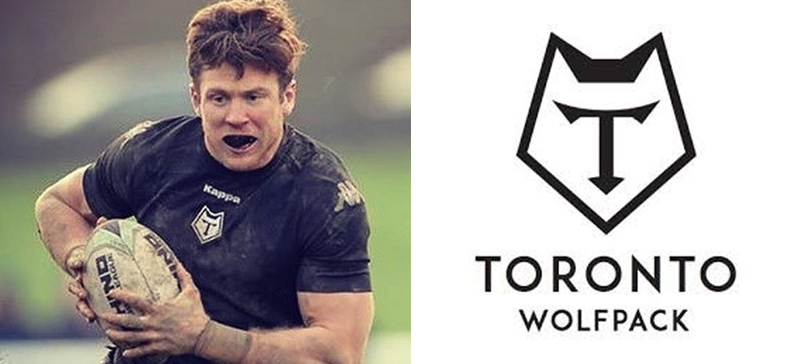 Article by: Danny Roberts
Eichner, a former Atlanta Rhino, is one of four North American trialists that were offered a professional contract with the Canadian organisation after an intense tryout tour and training camp; that culminated in a game against one of the founding members of rugby league in the UK, Brighouse Rangers.
The tour took in Toronto, Vancouver, Philadelphia, Tampa and Kingston (Jamaica) attracting both rugby talent and gridiron football players with experience from high school all the way up to the NFL.
Joined by fellow USARL compatriots Casey Clark (Philadelphia Fight), Terrance Williams, Marcus Satavu, and Sterling Wynn, Eichner went into the experience looking to learn as much as possible, but he left the camp with so much more.
Eichner said: "It's been an amazing experience, especially being around Paul Rowley and Brian Noble. Their knowledge is incredible and I've learned so much in a short period of time."
As tryouts go, this situation was a little different to the more traditional avenues that budding players take on their way to making it in the rugby league world. The whole thing was televised as part of a documentary entitled Last Tackle, hosted by former player Adam Fogerty.
"The process for being selected was a little nerve racking." Said Eichner.
"Each player went into a room and Brian Noble, Paul Rowley and Adam Fogerty were sitting there surrounded by lights and cameras. I was pretty nervous so I let them do most of the talking. To be honest, I was somewhat shocked to get called up and it took me some time to absorb what transpired both being selected and what had happened over the last 12 months."
The former American Footballer, only held a rugby ball in a competitive fixture for the first time a few years ago, pulling on a shirt for the University of North Florida Deadbirds. It was in 2014 when the 25-year-old really took to the sport of rugby league, joining the Jacksonville Axemen, in a side that went unbeaten in the regular season, only losing in the National Championship game. Eichner was a great find, not only for the Axemen but for the USARL as a whole, and after becoming one of only two players selected to join in with Brian McDermott and Leeds Rhinos preseason training camp in January 2015, it looked like nothing could stop his momentum.
Then came the spring of 2015, and a torn ACL.
The injury was devastating and not only ruled him out for the season, but out of contention for the USA Hawks World Cup qualifying campaign.
Coaches are never sure how well any player will deal with such an injury and what player they will get back when they've recovered – the difference with USARL players is that they are in it for the love of the game and with no paying contract, bills still need to be paid. After surgery and during his rehab, Eichner moved to Fort Lauderdale to take up a position as a project engineer for a general contractor. However, his love for the game never faltered and with his rehab complete, he was back in May 2016 helping the Axemen to another great season, once again becoming beaten finalists in the Championship game. With no signs of ever having an ACL tear, Eichner was ready to go when the USA Hawks came knocking with an offer of an international call up and he played his part as the Hawks beat the Canada Wolverines in the Colonial Cup series.
Joe Eichner is clearly blessed with natural ability and he is one of so many rough diamonds that the Wolfpack is looking to unearth as part of their wider vision for the sport of rugby league in North America.
The Wolfpack got their first sight of Eichner in the North vs South Conference All-Star game in Tampa, Florida on October 22nd 2016. A day later and Eichner was involved in the South Open Trials that the Canadian outfit had organised and was added to the list of 18 finalists invited to England to Brighouse, the home of the Wolfpack when they are in the UK.
Anyone in attendance as the trialists defeated Brighouse Rangers on that cold Sunday afternoon in December, could see that every player that had pulled on the black and white of the Wolfpack saw each other as a brother and not a competitor for a job. Eichner saw this first hand as he accepted the offer of a contract.
"All the players who participated in the trials were incredibly supportive and while each person not selected was disappointed, they all congratulated me and wished me the best in my ongoing rugby league journey."
So what is next for Joe Eichner? At only 25, the 2nd Rower/Lock can grow alongside the club and, with some hardwork and determination, could become the first USARL Hawk to play in Super League. For now though, the Florida native is keeping his feet firmly on the ground and looking to learn and improve with each passing day.
"My goals for this year are to improve my overall conditioning and make the Wolfpack starting line-up. I know I have some pretty stiff competition. In addition, I'm working to make the USA Hawks squad for RLWC2017 which would cap off an incredible year."
The Wolfpack 'project', as many are calling it, has the potential to be an incredible opportunity for the sport of rugby league to finally crack the North American market. It also offers the opportunity to a nation of athletes to get involved with another high impact, exciting, collision sport. If Eichner has a word of advice to other budding athletes, it is to keep grinding and working hard to achieve your goals, if you're committed, you will reap the rewards.
"My takeaways from this are to never give up – keep pushing yourself no matter the obstacles and challenges. Get out there and talk to rugby league people, connect and promote yourself. It's an amazing community filled with people who are there to guide, coach and mentor."
From everyone at the USARL, we wish Joe Eichner and the Toronto Wolfpack the best of luck as they embark on their historic journey.