Tampa Bay Teacher to Represent USA in 2017 Rugby League World Cup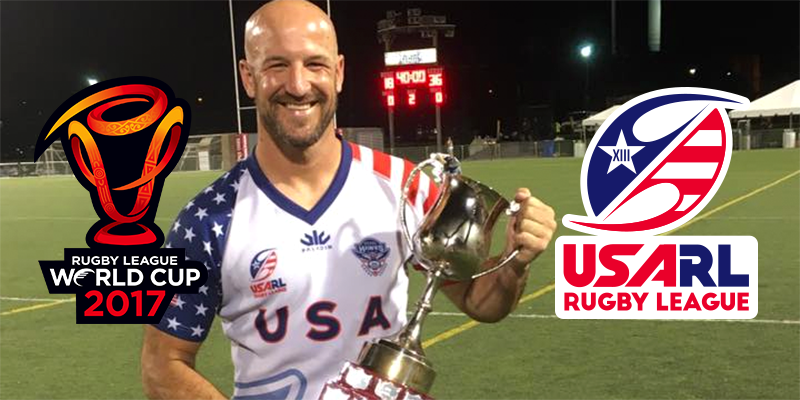 Ulch served as co-captain of the 2017 Tampa Mayhem, which completed its season with a 4-3-1 record and helped the Mayhem secure the club's first winning season and first playoff win, with Tampa finishing as the runner-up in the Southern Conference (SC) of the USA Rugby League (USARL). The Tampa Mayhem lost the SC Championship Game to the Atlanta Rhinos (8-0-1), who went on to win the 2017 USARL Championship with their 32-18 defeat of the New York Knights.
USA Rugby League's (USARL) Brian C. Cole had the opportunity to interview Tampa Mayhem co-captain David Ulch,  about his selection to the USA Hawks, the USA's National Rugby League Club.  Ulch, an educator at Lake Gibson High School in Lakeland, FL, will travel to Australia and Papau, New Guinea to play in the 2017 Rugby League World Cup (RWLC) this October and November.
Brian Cole:  How did you react upon finding out that you were picked to play for the USA Hawks in the 2017 RLWC?
David Ulch:  When I found out that I was selected for the RLWC 2017, I was extremely elated to have been selected. I think every athlete grows up dreaming about being a part of huge events such as this. I'm so incredibly grateful and honored to have been selected and able to represent my country in the game I love.
BC:  Why do you think that they picked you to play for the Hawks?
DU:  That's a question you'd have to ask the selectors. The USARL has some great athletes and it's been an honor and privilege to be a part of some incredible young talent that is coming about in our league. The future is looking bright for the USARL.
BC: What did you do to train coming into the Mayhem's 2017 season, both with fitness and skill preparedness, as well as outside of practice sessions?
DU: Prior to the season, I worked out daily and focused more on rugby league fitness type of workouts. Though I was hitting the gym I mainly did HIIT workouts on a daily or every other day routine. Along with those workouts, I was really concentrating on my nutrition habits. Combining all of that helped me enter the season in the best shape of my life.
BC:  How have you grown/improved as a player from your first RL season, 2014, and the 2017 season?
DU:  Wow, I've learned so much about the sport since my first RL game. Having imports like Daniel Payne, Matt Cook, Brogan Jackson, Kevin Curtis, and Josh Foley in the club over the years has helped increase my RL IQ and understanding the intricacies of the game.
BC:  What are your greatest skills as a RL rugger?  Where could you improve to grow further as a player?
DU:  As a teacher, I'm always looking as ways to become a better educator. The same can be said about becoming a better RL player. I'm always trying to find different workouts to use that'll help me gain a step on the field. And to be honest, I believe that I need to improve in all areas of the game. I'm not a perfect player by any means, and I probably never will be, but if I can provide guidance and support for my club and future league players, then I'd be a happy man.
BC:  Is there anything you would like to add about what is ahead for you between now and 02 December?
DU:  I'm really excited about going to the RLWC and experiencing the whole atmosphere and the high level of footie that I'll be a part of. I'm really looking forward to learning from many experienced players and an even more experienced coaching staff where I can take what I've learned and bring it back to the states to help the Mayhem improve year after year.
How to Watch the Rugby League World Cup
Catch all the Rugby League World Cup 2017 Action with Fox Sports TV and Online. FS2 Channel features USA Hawks games with Fox Soccer Plus Channel broadcasting select tournament events. Catch all the action ONLINE with Fox Soccer Match Pas