USA Hawks Name 23-man World Cup Squad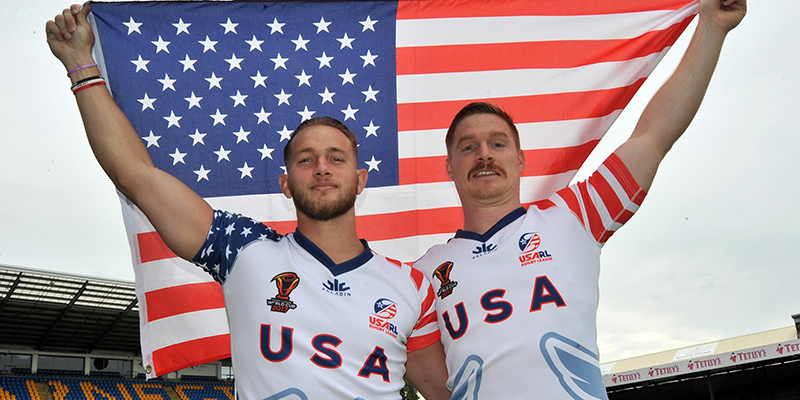 Sept 22 - What started back with the Hawks qualifying in December 2015, the 23-man squad to represent USA at this year's Rugby League World Cup has been arduous task since the USARL first became recognized as the National Governing Body back in 2014. Since then a selection process was put in place taking over 22-months that included several countries, many hours of communication and the commit of traveling many miles extending the length of the east coast, from Boston to Tampa all with the effort to put eyes on emerging USA players.
USARL Chairman Peter Illfield who led the selection panel was pleased with the final squad, "USA's second World Cup Campaign demonstrates a significant increase in USA competition players from the 2013 campaign while also recognizing their contribution, talent and dedication. Along with our domestic players, we also acknowledge those players outside the USA who have contributed their talent and subsidized their costs to ensure the USA qualified for RLWC2017 along with a successful lead-up, winning the America's Championship and Colonial Cup."
USA Hawks domestic coach Sean Rutgerson celebrating winning the 2017 Rugby League Americans Championship between USA, Canada and Jamaica and 2017 Colonial Cup now takes on the reigns as Assistant Coach to Brian McDermott. "Having a large group of actual American players is a massive thing for usa rugby league, it shows how much the game is developing and that will only help attract sponsors, fans and more people who will want to play. The American people want to see Americans playing. We expect to show that we are more than competitive against the world's best rugby league countries."

Nick Newlin, USA Hawks domestic Captain celebrated the naming of so many American based players. "We've assembled a squad full of USA domestic players who are going to continue to grow the game of Rugby League in the United States. I'm so proud to be a part of this team and having the honor of being compete on the world stage against the world's best, I couldn't be more elated for everyone involved."
The 23 Man Squad also includes a handful of players from USA's previous World Cup campaign that 'Shocked the World' when they advanced from their pool stage only to lose to Australia in the Quarter Finals. Names include Bureta Faraimo, Edward Pettybourne, Gabriel Farley, Daniel and Stephen Howard, Kristin Freed and Mark Offerdahl. Another player joining the USA for his first World Cup is Junior Vaivai. Junior was MVP of the 2017 Colonial Cup and hails from the Illawarra competition in NSW and also has NRL playing experience.
World Cup Qualifiers Captain Mark Offerdahl spoke about this World Cup's Squad. "This World Cup once again puts the USA Rugby League on the global stage but this time to showcase up-and-coming USA talent. Whatever the resultds, I'm proud to wear the Red, White and Blue and will continue to help grow the game in the US anyway I can."
Coach, Brian McDermott will finish his season with Leeds and take up his duties with the USA Hawks in Townsville on 21 October.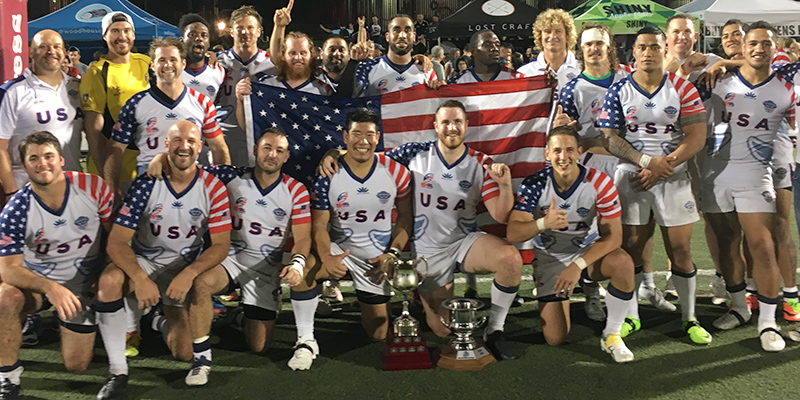 USA 23-man Squad:
Jonathan Taylor Alley (Central Florida Warriors)
Ryan Burroughs (Toronto Wolfpack)
Charles 'CJ' Cortalano (White Plains Wombats)
Joseph Eichner (Toronto Wolfpack)
Bureta Faraimo (NZ Warriors)
Gabriel Farley (Philadelphia Fight)
Kristian Freed (White Plains Wombats)
Daniel Howard (Wentworthville Magpies)
Stephen Howard (Mounties)
Martwain Johnston (Delaware Black Foxes)
Andrew Kneisly (Philadelphia Fight)
Corey Makelim (Mounties)
Fotukava 'Hiko' Malu (Atlanta Rhinos)
David Marando (Belrose Eagles)
Nicholas Newlin (Atlanta Rhinos)
Mark Offerdahl (London Broncos)
Edward Pettybourne (Tweed Heads Seagulls)
Joshua Rice (New York Knights)
Matthew Shipway (South Newcastle)
Samuel Tochtermann-Talbott (Tweed Heads Seagulls)
David Ulch (Tampa Mayhem)
Taioalo Junior Vaivai (Illawarra Wests Devils)
Matthew Walsh (White Plains Wombats)
Coach: Brian McDermott:
Assistant Coach: Mark Gliddon & Sean Rutgerson
Team Manager: Deanne Lees
​About the Rugby League World Cup 2017
The Rugby League World Cup 2017 (RLWC2017) will see 14 teams play 28 games over five weeks – all hoping to be crowned world champions in what is the pinnacle event in international Rugby League. In addition to playing matches in Australia and New Zealand, there will be three pool matches played in Papua New Guinea in front of some of the world's most passionate Rugby League fans. This Tournament will celebrate the diversity of cultures and countries playing and engaging with the game around the world. RLWC schedule as follows:
USA vs Fiji    Oct 28 Townsville QLD (6:30PM local time)
USA vs Italy    Nov 5 Townsville QLD (6:30PM local time)
USA vs PNG    Nov 12 Port Moresby PNG (3:30PM local time)
For USA Hawks RLWC2017 media related inquiries, please contact Hawks Communications Manager: Steve Williams (This email has been obfuscated.)