USARL North vs South All-star match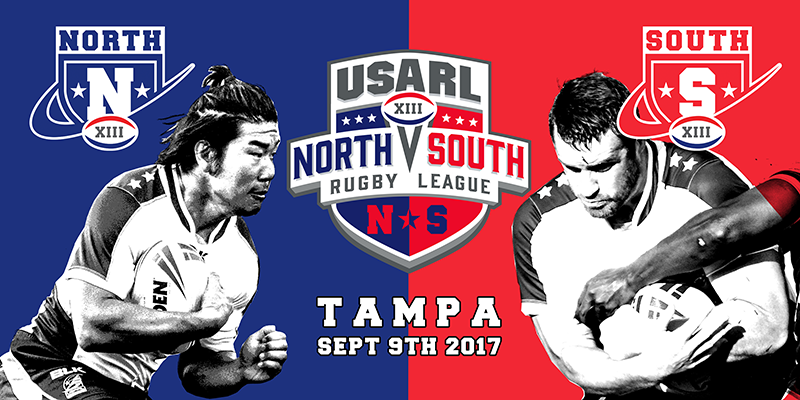 Featuring many of the best USARL domestic players, this year's All-star game holds particular interest with USA Hawks selection in upcoming Rugby League World Cup 2017.
USARL Chairman Peter Illfield spoke about the importance of the event, "The impact of this September 9 'All-star" game will rest heavy on our players, who are chosen to represent their conference. After the conclusion of the regular USARL season, this match is another opportunity to impress selectors for the 23-man squad going to RLWC2017. It highlights the importance of the 2017 season for our clubs and players by recognizing and acknowledging the talent our players have shown during the year."
The event will again be hosted by Tampa Mayhem at Tampa Catholic High School Football Stadium, on Saturday, September 9 at. 5pm carrying on the success of the 2016 match. Last year's Champions the SOUTH defeated the NORTH 38 to 32 in a game that went down to the wire.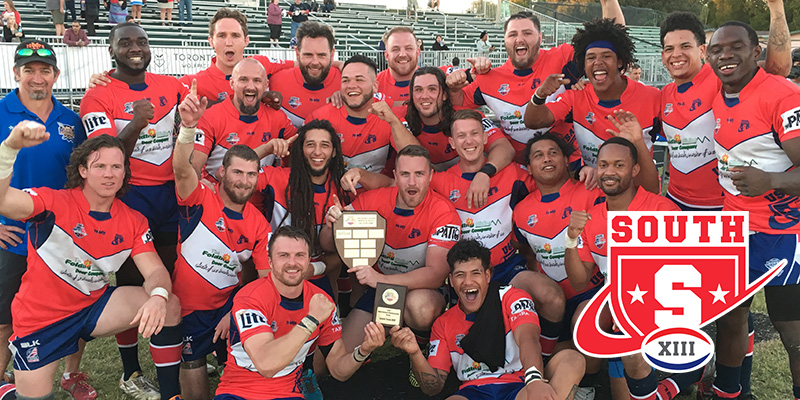 Tampa Mayhem co-owner Chris Dickerson was delighted to once again be host this event of the USARL calendar, "The event last year was not only a huge success for us as a club, but great for the growth of Rugby League internationally as the USA continues to expand into new Rugby League frontiers. Tampa Bay is a fantastic area to visit for travelling Rugby League fans as the tri-city combination of Tampa, St Petersburg and Clearwater deliver a great tourist destination featuring Sun, the best beaches in the USA and Theme Parks."

"Florida is a place where Rugby League will only continue to grow and bringing this event to Tampa again allows us to show the Rugby League world what we can achieve in this city. This years event will be bigger, better and I'm certain will grow into an event to rival the USARL National Championship. The players will be fighting for spots on the USA world cup roster this fall and we at the Mayhem cannot wait to be a part of it."
Last Tackle, a reality sports documentary 'Last Tackle - Inside the Toronto Wolfpack' currently broadcast into 50 million U.S. households via Eleven Sports will be again supporting the event as Sponsors. Episode 2 now released will receive 15 airings over a two week period and is also available for fans on Last Tackle's Youtube Channel.
NORTH & SOUTH Squads Announced
Brent Richardson (Brooklyn Kings) will coach the NORTH team for the second time, and Sean Rutgerson (Jacksonville Axemen) coaching the SOUTH. Both teams could be likely to play-off in the USARL Championship Final before they front up again to face-off under this representative format.
Brent Richardson was eager to highlight the importance and timing of this annual clash, "The NORTH vs SOUTH All-star game allows players to test their ability against the best in the USARL competition and much needed spotlight for identifying talent for the upcoming World Cup and Test Matches. It is vital that we get an understanding of which American players can match it with the best in the world and this game is the perfect stepping stone."
NORTH 'ALL-STAR' TEAM
Roman Lowery - Philadelphia Fight
Marcus Satavu - Brooklyn Kings
Gabe Farley - Philadelphia Fight
George Reis - White Plains Wombats
Karim Singleton - New York Knights
Domenic Defalco - Brooklyn Kings
Matt Walsh - White Plains Wombats
Josh Rice - New York Knights
CJ Cortalano - White Plains Wombats
Chris Frazier - Northern Virginia Eagles
Luke Barron - White Plains Wombats
Abe Cohen - New York Knights
Andrew Kneisly - Philadelphia Fight
Martwain Joshson - Delaware Black Foxes
Matthew Almedia - Brooklyn Kings
Mike Elias - Boston 13s
Kyle Depew - New York Knights
Dane Wilcoxen - Brooklyn Kings
Bryant Alexander - Northern Virginia Eagles
Ty Elkins - Brooklyn Kings
Dave Grenier - White Plains Wombats
Seimou Smith - Brooklyn Kings
Corey Jones - Brooklyn Kings
SOUTH 'ALL-STAR' TEAM
Travis Miller - Tampa Mayhem
Jonathan Halter - Jacksonville Axemen
Terrance Williams - Atlanta Rhinos
Jon St John - Tampa Mayhem
Josh Jackson - Central Florida Warriors
Sterling Wynn - Central Florida Warriors
Tomu Osbourne - Atlanta Rhinos
Sean Hunt - Atlanta Rhinos
Taylor Alley - Central Florida Warriors
Nick Newlin - Atlanta Rhinos
Bart Longchamp - Central Florida Warriors
Hiku Malu - Atlanta Rhinos
Dave Ulch - Tampa Mayhem
Justin Branca - Tampa Mayhem
Kris Townsil - Jacksonville Axemen
John Purnell - Jacksonville Axemen
Josh Heath - Tampa Mayhem
Steven Hill - Jacksonville Axemen
David Washington - Jacksonville Axemen
Zac Blalock - Atlanta Rhinos
Pio Vatuvei - Jacksonville Axemen
Jason Paul Junior - Atlanta Rhinos
Mike Stoeling - Tampa Mayhem
**Students and Staff of the Tampa Catholic High School will receive FREE ENTRY with their School ID. All CHILDREN 14 and UNDER will also be admitted FREE. Concessions and Rugby Merchandise will be on sale at the event.
GATES: 4pm | Kickoff: 5pm | Parking: FREE
THE GAME WILL BE LIVE STREAMED ONLINE - DETAILS TO COME
WHEN: Saturday, September 9, 2017 from 4:00 PM to 7:00 PM (EDT)
BUY TICKETS ONLINE COMING SOON | TICKETS AVAILABLE GAME DAY
LOCATION: Tampa Catholic High School: 4630 North Rome Avenue FOOTBALL STADIUM - Athletics Complex, Tampa, FL 33603