Strong Start for the Razorbacks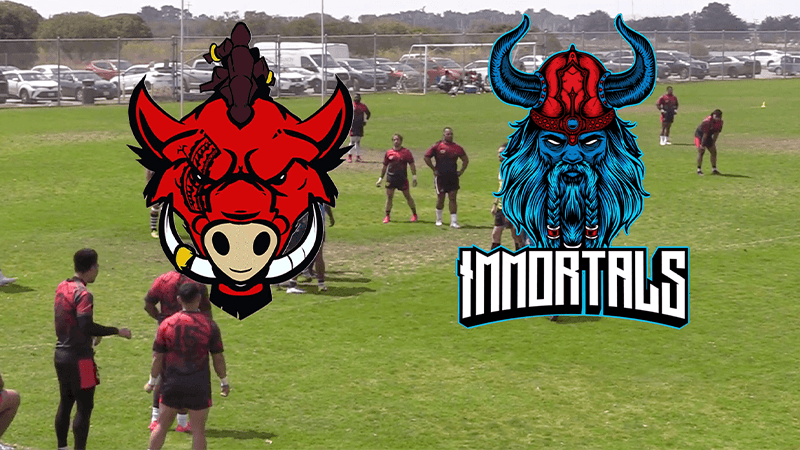 An exciting day of Rugby League in California started off with the rivalry match between the Razorbacks and Immortals.
Sam Tiger the coach of the Razorbacks and Immortals Skipper Nuilevu have a great rivalry born out of countless tough and close games.
The last time they met in the 80-minute version of the sport, it was the Immortals who came home strong in a close 2-point victory.
The game took place in the San Francisco Bay area at Tom Bates Regional Sports Complex in Berkley.
Generally, on Saturdays in Berkeley it's the Golden Bears taking the center stage, however this Saturday it was California Rugby Leagues turn.
The game started strong with each team notching up early tries. It was end to end for the whole first half with the score 20-18 to the Immortals at half time.
Stand out performers on the day for the Razorbacks were Sione Finefeuiaki, Max Nauci, Tevita Tameliau, Tino Mafi and Matt Almeida.
The end to end football continued all game with the scores always remaining within 10 points.
Coming into the final 5 minutes the Razorbacks were down by 4 points. With driving play after driving play they managed to get within 5 yards of the try line.
It was at this moment that strong runner Matt Almeida crashed over with the winning try. The razorbacks crowd and players we over joyed with their first victory of the season keeping their record clear at 1-0.
Final scores 32–30 to the Razorbacks.
The Immortals impressed for a team missing some of their big names. The side never backed down and fought right to the end.
This game was one of the closest games we have seen this season.
Notable performances from Immortals Tomasi Mocelutu, Nate Halaapiapi, Skipper Nuilevu and Sione Latu.
Full match replay is available on California Rugby Leagues Facebook Page.