Hawks ready to Fight for Colonial Cup rights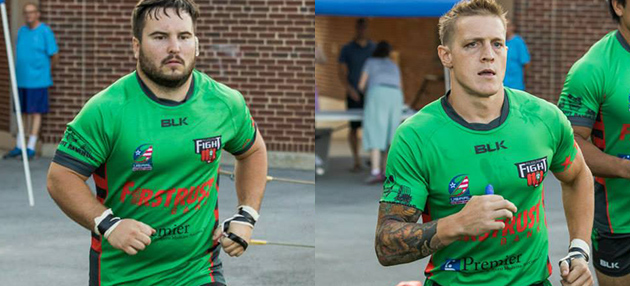 By Danny Roberts
The Hawks must win by 9 points or above to reclaim the cup from Canada in Philadelphia this Sunday but with 7 of the 17 players selected hailing from the Philadelphia Fight, the side is hoping that this home advantage could give them an edge over their opponents.
Two Fight players who will be representing the Hawks as they take on the Wolverines are Jared Frymoyer and Mike Timpano. Both bring a wealth of experience to the squad, Frymoyer, who missed the first test last month through injury comes into the mix having represented his country in 2010 and 2014 and Timpano is a prolific goal kicker who has played in 3 successful USARL Championship finals with the Philadelphia Fight.
Mike Timpano has worked his whole rugby league career to get the call up to the national team and when it finally happened he couldn't contain his excitement.
"When I read the email stating that I was selected it was a surge of adrenaline and I made a scene at work expressing my excitement. I'm extremely grateful for this opportunity to represent the USA and help bring back the Colonial Cup trophy."
Timpano first got involved with rugby league after playing rugby union alongside Craig Howitt, one of the original members of the first Jacksonville Axemen team and now CEO and Assistant Coach of the Central Florida Warriors. Howitt convinced him to try out for the Axemen, however after not making the initial team he almost fell out of love with the game. After being encouraged to press on and keep pushing forward Timpano was voted onto one of the remaining roster spots by the Axemen fans before working hard to break into the starting lineup. He moved home to New Jersey after finishing college and joined the Philadelphia Fight, he hasn't played rugby union since.
Since then Timpano has gone on to win 3 USARL Championships with the Philadelphia Fight. He is a firm believer that your teammates are more than just people you play sports with, it's a family bond between everyone involved and that attitude is what breeds success.
"The guys I play with work so hard all year round and give everything they have on the field for the player next to them. We are truly a family on and off the field. Our hard work and determination translates to the scoreboard and I hope to help bring that to the Hawks team this Sunday."
Jared Frymoyer is hoping to make up for lost time when he takes to the field this weekend after sitting out the first game of the Colonial Cup through injury. However, he still made sure he learnt plenty from the close encounter and believes that the loss has helped the side to focus their training ahead of the second game.
"Unfortunately, injury forced me to miss game one of the series. I was there to support the boys, but we came up short. That just fueled everyone to train harder in the lead up to game two. With the inclusion of four more Philly guys on top of the three from game one, and Kevin Wiggins who played with the Fight up until last season, the team chemistry should be much better this time around. This also puts some added pressure on us Philly boys to make a positive impact, but I have no doubt that we will."
Frymoyer started playing rugby league in 2009 having played union since 2004, it was also to do with trying to stay in shape during the summer, as he remembers it he 'fell in love from the first training session'. From there he has gone on to have an array of amazing experiences in the sport but what is his favorite? He cannot choose just one.
"It's hard to choose just one best experience, there are so many. Winning our first national championship for the Fight, and the second and the third, is up there. Being selected for the very first Colonial Cup match back in 2010 was pretty cool and very unexpected. Then I was honored with Canada naming me the man of the match in a then USA Tomahawks victory. Last summer I was selected to travel to Hawaii to play in the last match ever under the Tomahawks banner against Samoa in Aloha Stadium. To top it off we got the W! Never in my wildest dreams did I think that playing a game would give me the opportunity to play in such exotic locations with some of the best players I've ever played with. On top of that I was part of the very first USA Pioneers development squad that traveled to play two matches in Kingston, Jamaica. It's too hard to choose just one."
Both players are looking forward to taking to the field to try and reclaim the Colonial Cup this Sunday, but it is not just this one game that has the pair excited, it is the chance to play alongside players that are usually only opponents and also that Leeds Rhinos' domestic treble winning coach Brian McDermott will soon be taking over as Head Coach of the Hawks.
Frymoyer is relishing the opportunity to link up with teammates old and new:
"I'm looking forward to playing with my man Kevin Wiggins again. He played for the Fight for a few years, but this past season he started up the Delaware Black Foxes. Playing against him is not nearly as fun as it is as playing alongside him. I'm also excited to play with Luke Barron, who recently returned from a successful season playing in Australia. Having him on the center inside of me is an exciting thought."
He would also love the opportunity to play under Brian McDermott in December's World Cup Qualifiers.
"It would be an incredible experience to get to play under him. His knowledge of the game and coaching ability is evident in the success of the Rhinos. I was lucky enough to learn a ton from Matty Elliott last year over the week I spent in Hawaii. I can only hope to be given a chance to spend time under the tutelage of another top quality coach and soak up as much knowledge as I can."
Both of these sentiments are echoed by Frymoyer's Fight, and now USA Hawks, teammate Mike Timpano.
"Playing against these guys [in the league] is never fun, they have a great work ethic and I know what to expect from their level of play. I am especially looking forward to playing next to Taylor Alley (Central Florida Warriors) in particular. Having him as my center is going to be a great experience because we know what to expect from one another. I know he is a talented player who can run hard, tackle harder and make moves in open space. We will have a great chemistry working the ball out wide and we'll hopefully get over for a few tries."
Like Frymoyer, he is also looking to learn as much as he can from Brian McDermott given the opportunity.
"We are all excited to learn from Coach McDermott, he is obviously an incredible coach and brings a wealth of knowledge with him to the Hawks. I hope to soak up every ounce of information he provides regarding everything from the general flow of the game to the tiny details of our footwork and ball handling."
Timpano, who wasn't chosen to play in the first game is looking to hit the ground running and feels that the crowd supporting him will be a huge boost.
"Being in Philadelphia is a huge advantage for not only the Hawks but for the Fight players as well. Knowing and hearing that we have the support of the crowd can sometimes be the deciding factor in pushing it to the next level, gaining the extra meters, reaching a gear you didn't know existed, or finding the reserve energy to finish the final plays of the match. Personally this match will mean a great deal to me because I will have upwards of 60 friends and family who are coming out to watch me play and trust me, you will be able to hear them!"
The Colonial Cup deciding fixture takes place at 3pm on Sunday October 18th at A.A. Garthwaite Stadium, Conshoshocken, PA. Eight clubs will be being represented by the selected players and it is sure to be a momentous occasion.
Whatever happens, the only way is up for the Hawks.
The selected squad is as follows:
Ryan Burroughs (NOVA Eagles)
Jared Frymoyer (Philadelphia Fight)
Taylor Alley (Central FL Warriors)
Luke Barron (Connecticut Wildcats)
Mike Timpano (Philadelphia Fight)
Rich Henson (Philadelphia Fight)
Shain Singleton (Rhode Is. Rebellion)
Andrew Kneisly (Philadelphia Fight)
Gareth Walker (Central FL Warriors)
Kevin Wiggins (Delaware Black Foxes)
Abe Cohen (New York Knights)
Casey Clark (Philadelphia Fight)
Jon Purnell (Jacksonville Axemen)
Terrance Williams (Atlanta Rhinos)
Roman Lowery (Philadelphia Fight)
Bart Longchamp (Central FL Warriors)
Zack Reichenbach (Philadelphia Fight)