USA vs Canada Colonial Cup Game 2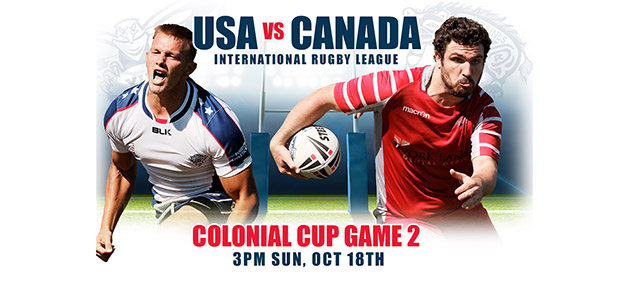 Canada leads the series 1-0 defeating the USA 36-28. It's do-or-die for the USA Hawks who must now win by 8+ points to reclaim the Cup from Canada.
GAME 2: USA vs Canada - Rugby League Colonial Cup
3pm Sunday, Oct 18th
A.A. Garthwaite Stadium | 100 E 11th Ave & Harry St. Conshohocken, PA 19428
$5 General Admission
Tickets available at the GATE 2pm Game Day or
BUY ONLINE:
USARL.eventbrite.com
Happy Hour Starts at 2pm.
Enjoy food, drinks, prizes & giveaways!
WATCH REPLAY ONLINE:
Game 2 will be uploaded to youtube 2-3 hrs after the game:  Click and Subscribe on the USA Rugby League YouYube Page
GAME 1 - USA VS CANADA Canada (36) defeated USA (28)
ABOUT RUGBY LEAGUE:
In a typical, 80-minute USA Rugby League match, the players on the field are involved in more than 300 bone-rattling collisions. That's because USARL sets itself apart from other forms of rugby with a faster, more action-packed style of play with limited game breaks and no red lights on the infield stoplights. Currently, fans across the country can join the USARL movement by following teams in 14 different cities, including Atlanta, Jacksonville, Brooklyn and Boston. But the league doesn't just compete on U.S. soil: the national team, nicknamed the Hawks, pulls the league's biggest stars and lets them compete alongside each other against international foes. Currently, the Hawks are ranked 10th in the world following a 2013 World Cup campaign that saw them advance all the way to the quarterfinals.
Learn more at: http://www.usarl.com @usarugbyleague #usarlhawks