Northern Virginia Eagles new recruits shine in opening round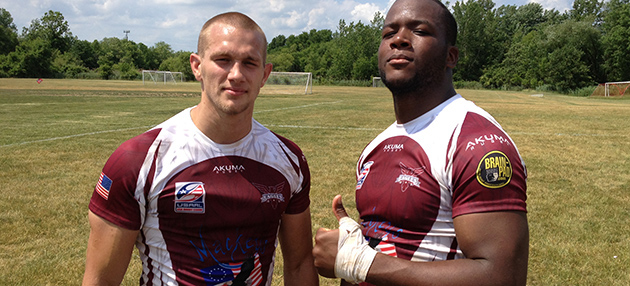 Kicking off action this weekend was the Northern Virginia Eagles visiting the return of Bucks County Sharks in their first game under the USARL banner. The Eagles looked a completely different outfit from years past and continually punished the Sharks with some spectacular line breaks and passing sets. None were more impressive than Eagles #1 fullback and newcomer Ryan Burroughs whose 90 yard solo effort was the game highlight. Burroughs a former college footballer and Rugby Sevens player, capped off his Rugby League debut with 5 Tries to give the Eagles a 56-18 win over the Sharks.
Boston sound warning bell Boston proved way too much class for the returning Knights dismantling the former powerhouse by a score of 68-4. The 13s welcomed the return of former NRL star Dustin Cooper whose experienced guided the 13s right from the opening whistle.
Final score Boston 68 over NY Knights 4.
Upset in Florida as Warriors down Axemen In only their 2nd year in the USARL, the Central Florida Warriors stood tall and defeated the mighty Axemen to signal a power shift in the South. The first quarter saw the scores deadlocked at 6-6 before the Warriors took control of the match and never looked back.
Final score Central Florida Warriors (34) vs Jacksonville Axemen (6)
Complete Round 1 Results:
Central Florida Warriors (34) defeated Jacksonville Axemen (6)
Bucks County Sharks (18) lost to Northern Virginia Eagles (56)
New York Knights (4) lost to Boston Thirteens (68)
D.C. Slayers (4) lost to Philadelphia Fight (42)
Brooklyn Kings (34) lost Rhode Island Rebellion (40)
Delaware Black Foxes (22) lost Connecticut Wildcats (44)