Rugby League Colonial Cup Decider USA Hawks vs Canada Wolverines Sunday Oct 18, 3PM, Conshohocken (Philadelphia), PA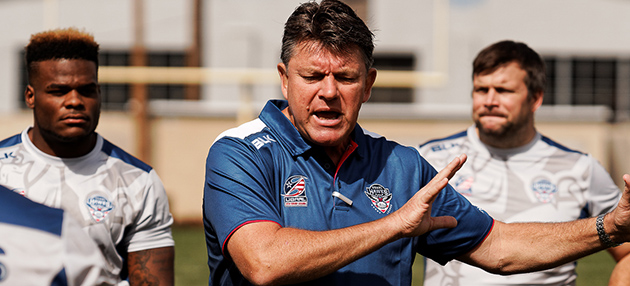 The September 20 match, was a hard fought encounter between the USARL Hawks and the Canadian Wolverines. Canada benefited from their team cohesion and experience, winning 36-28.
Reflecting on the first match against the Wolverines, Hawks Coach Peter Illfield considered "the difficult circumstances of distance and the little time together to prepare and practice game strategy." Illfield is using the upcoming October 18 match to introduce a more Rugby League experience into the squad with seven changes to the team roster.
"I've identify the team's "critical incidents" that if implemented, will result in an improved performance.  For this time of the year when week-to-week Rugby League is not being played the squad will need to focus on building their endurance while maintaining their strength and power."
Those brought into the Hawks for the 2nd Test Match against Canada are Jared Frymoyer, Roman Lowery, Zach Reichenbach and Mike Timpano from the Philadelphia Fight; Shain Singleton from the Rhode Island Rebellion; Barthelemy Longchamp from the Central Florida Warriors and Luke Barron from Connecticut Wildcats who spent this past season playing in the Brisbane 2nd Division competition in Australia.
Officials have agreed that the upcoming test match on October 18 will now decide who takes home the Colonial Cup. USA will need to win by eight or more points in order to take the Cup away from Canada.
Hawks Squad to face Wolverines Announced
The following players have been selected for the second test match USA vs Canada, 3.00pm Sunday, October 18th 2015, A.A.Garthwaite Stadium, Conshohocken (Philadelphia), PA. The selected players represent eight clubs across the USARL competition.
Taylor Alley - (Warriors)
Luke Barron - (Wildcats)
Kenny Britt - (Warriors)
Ryan Burroughs - (NOVA)
Casey Clark - (Fight)
Abe Cohen - (NY Knights)
Jared Frymoyer - (Fight)
Rich Henson - (Fight)
Andrew Kneisly - (Fight)
Barthelemy Longchamp - (Warriors)
Roman Lowery - (Fight)
Jonathon Purnell - (Axemen)
Zac Reichenbach - (Fight)
Shain Singleton - (RIR)
Michael Timpano - (Fight)
Gareth Walker - (Warriors)
Kevin Wiggins (Black Foxes)
USARL Hawks vs Canada Wolverines Sunday 3pm, 18th October A.A.Garthwaite Stadium Conshohocken (Philadelphia), PA.
Follow event details on FACEBOOK. To learn more about the USARL, please visit our website usarl.com or LIKE us on facebook.com/usarl