USA Hawks vs Canada Wolverines - Match Report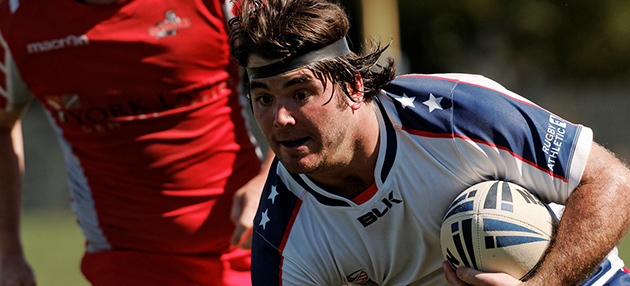 Canada shot to a 6-Nil lead when a poor set from the USA placed Canada is good field position scoring position allowing Lafferty to bulldoze his way over the line. Left-Centre, Taylor Alley opened the points for the USA with a skillful display down the left-hand side into the game. Hawks Second-rower, Casey Clark followed with a 4-pointer before half time with halfback Matt Walsh converting both tries.

Canada patiently worked their way up the middle charging through the Hawks forwards close to the line and were ultimately successful by Christian Miller bringing the scores back to 12-12. Five minutes before halftime, a costly error placed Canada in excellent field position against an already injured and tiring Hawks defense. Fancy football followed by tunnel ball passing had the Wolverines celebrating when Jonathan Cregg scored out wide in spectacular fashion.
After the half-time break, Canada put on another 2 unanswered converted tries to stretch the lead to 30-12 before USA's fullback Kenny Britt bustled his way over for a four pointer with Matt Walsh converting to bring the Hawks closer at 30-18. Canada continued the charge with their forwards being successful again bouncing back with another converted try extending their lead to 36-18.
The game may have been out of USA's reach as they appeared to snap to life with Alley getting over for his second try, then Ryan Burroughs, who started at centre and went to fullback, gave USA hope with a couple of blistering runs, where he was now filling-in for the weathered Britt. Before long Burroughs came up with his own try, but Walsh failed to convert. The USA now looked in command of the game, only for the clock winding down ever so quickly to signal the end of the game.

Coach Illfield couldn't separate lock, Kevin Wiggins and hooker, Gareth Walker as his best on field. Walker gave the Hawks plenty of direction and good service from his dummy-half and put up plenty of solid defense around the ruck. Lock Wiggins' work rate should have reflected a much better result for the newly formed Hawks. His rugged no-nonsense defense and penetrating ball carries were a pleasure to watch.
Alley, with the reward of 2 tries, had a strong game playing left-centre, showed spark when needed and was deft on his feet. But unfortunately both he and other centre Burroughs, were hindered by the absence of Captain and five-eighth Rich Henson to provide them with more ball and opportunities when Henson suffered an ankle injury that kept him from the field for long periods of time. The high work rate that it left for his halfback Matt Walsh took its toll and disrupted the flow. Walsh was brave and willing in his endeavors.
Images: Davey Wilson Photography, LLC | +1 917-355-3802 | daveywilson.com
Full time: 36 (Canada) 28 (USA)
Canada Wolverines 36:
Tries (6): Alan Lafferty (#09), Christian Miller (#04), Jonathan Cregg (#03), Trent Bourke (#05), Enoch Wamalwa (#17), Antoine Blanc (#10)
Goals (6): Steve Piatek (6 from 6)
USA Hawks 28:
Tries (5): Taylor Alley (#04), Casey Clark (#12), Taylor Alley (#04), Ryan Burroughs (#03), Kenny Britt  (#01)
Goals (6): Matt Walsh (4 from 5)
Referee: Vince Lawson Touch
Judges: Alan Chmielewski, Bruce Wedderburn Fourth
Official: R McHugh
USA Hawks vs Canada Wolverines
Sunday, September 20th at 1 PM
A.A. Garthwaite Stadium
100 E 11th Ave & Harry St - Conshohocken, PA 19428