10 USA players added to Toronto Wolfpack training camp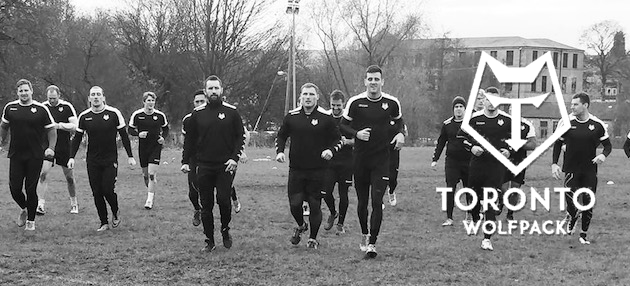 After having hundreds of athletes showcase their talents in an intense five city open tryout tour that saw the team in Toronto, Philadelphia, Tampa, Kingston (Jamaica) and Vancouver the Wolfpack has selected 18 finalists to join the team in their very first training camp in the UK for the final leg of the tryouts in order to see if they can earn a spot on the team.
The search for North American and Caribbean talent brought together former high school, collegiate, and semi-pro & professional American gridiron players, along with some amazing rugby talent from the region.
The tour was produced in conjunction with Last Tackle, a docu-series covering the inception of the Toronto Wolfpack, that will see the 18 finalists competing for a coveted spot on the inaugural 2017 roster.
Clark, Eichner, Williams among Americans Trying Out For Wolfpack
Several Americans have made it to the final round of selections for the Toronto Wolfpack. Some of the more notable names include 2016 USARL MVP Casey Clark along with his Hawks second row teammate Joe Eicher. Terrence Willams recently returning from Australia has found his way into the training camp. In total, there are 10 Americans among the 18 total invitees to a camp in the UK next month to see if they can make the Wolfpack. There are five positions available for the camp invites. Additionally there are players from Jamaica and Canada attending the camp.
The players selected from the tryout tour include
| | | |
| --- | --- | --- |
| Name | Age | Hometown |
| Monte Gaddis | 24 | Cleveland, Ohio |
| Casey Clark | 26 | Missoula, Montana |
| Corey Knox | 27 | Buffalo, New York |
| Emil Boggren | 21 | Toronto, Ontario |
| Tyronie Rowe | 28 | Kingston, Jamaica |
| Joe Eichner | 25 | Geneva, Florida |
| Terrance Williams | 23 | Atlanta, Georgia |
| Nathan Campbell | 26 | St. Elizabeth, Jamaica |
| Quinn Ngawati | 17 | Vancouver Island, British Columbia |
| Matt Walsh | 30 | Sydney, Australia/White Plains, New York |
| Chad Bain | 24 | Belleville, Ontario |
| Antonio Baker | 29 | Kingston, Jamaica |
| Sterling Wynn | 22 | Sanford, Florida |
| Marcus Satavu | 28 | Sigatoka, Fiji/Sunnyvale, California |
| Andrew Zulauga | 23 | Tampa, Florida |
| Ty Elkins | 32 | Newberry, South Carolina |
| David Coleman | 25 | Columbus, Ohio |
| Kenneth Walker | 27 | Kingston, Jamaic |