Justin Branca Military Man to Mayhem Rugby League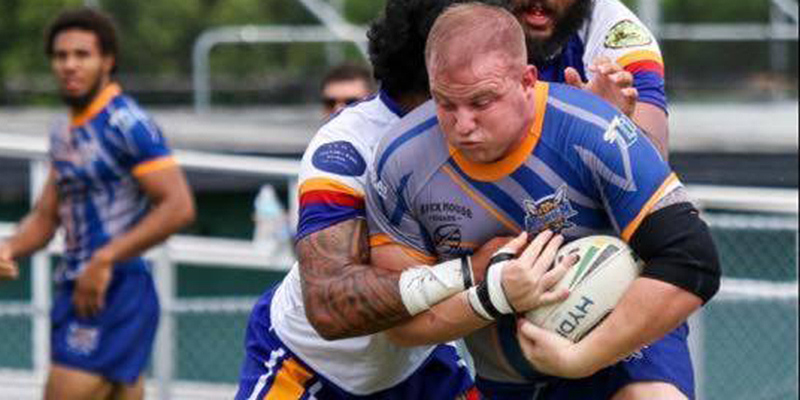 Justin is entering his second full season with the Mayhem after joining the side at the back end of 2015. We asked the Military veteran about his experiences:
Thanks for taking the time to speak to us Justin. First off, you only managed 20 minutes in Saturday's win with what looked like a bicep tear.  How is the injury from Saturday and how long do you anticipate being on the sideline, if at all?
The bicep is a sore and stiff with some bruising, but the plan is to just take it day by day.
Let's start with the military.  Like others at the Mayhem, your background is with the military but what inspired you personally to join the military and at what age did you decide that a Military career was an option to pursue?
My family has a pretty strong lineage of service, but that was never really my motivation to join. To be completely honest, I needed a way to pay for college so I thought that joining the military would cover that and give me tools to be successful later in life.  I never planned on serving for 12 years but I would do it all over again in a heartbeat.
Everyone at the Mayhem thanks you for your service to your country but what were the lifelong lessons you learnt? Do you have any regrets or things you'd have done differently on reflection? There are pro's and con's to that life.
I could go on for hours about lessons the military has taught me over the years, but some ones that truly hit me hard are loyalty to a cause bigger than myself and to "Be, know, and do" everything you ask of those below you. There is no better leadership to a young soldier than a leader who sets the example and leads from the front. Just like everyone else, I have made many a mistake in my military career but every one of them shaped me as a person and led me to where I am today and I truly have zero regrets.
How did you find your way into Rugby League and to the Tampa Mayhem?
I heard about a touch rugby session from current Mayhem team mate Travis Miller and decided to give it a shot. I made a couple of plays and was asked to come out for a practice the following night. I played my first game that Saturday and have been in love with the game ever since.
What did you learn from that brief stint in 2015? The playoff game in Atlanta was played at a quicker pace than the regular season games and you ended up in the sin bin.  What did you take from those early games in 2015 to shape you as a player?
I think the big takeaway from that game was not to talk to the Sir because he's never going to change his mind (laughs). That first couple of games I was like any new player; I had a ton of bad habits from American football like tackling with my head and chasing the footy around the field.  That and fitness; I thought I was in pretty decent shape for a big guy and you find out in a hurry that "rugby fit" is a whole different universe.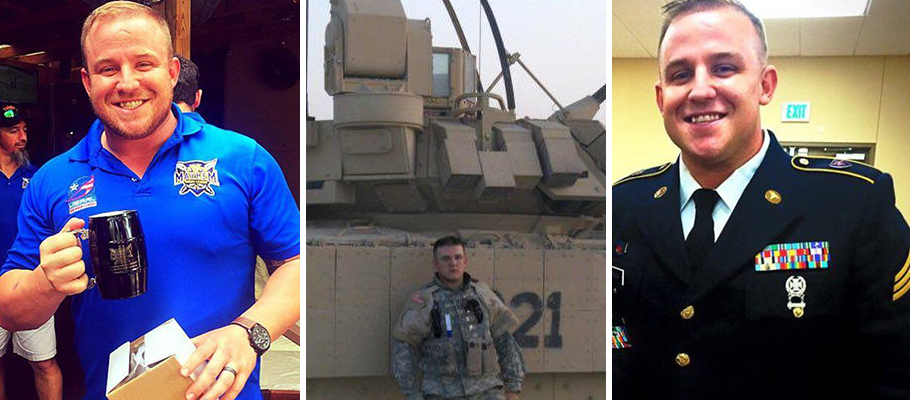 What parallels can you draw on from your military background and Rugby League, and what elements of being a soldier can you draw upon to succeed in Rugby League?
The biggest parallel that has transferred over for me is discipline.  I realized that a team is 13 bodies playing together as a unit, and that you are only as good as your weakest link.  Just focus on your individual job and the rest should fall into place accordingly.
2016 was a bit of a breakthrough year for you, you ended up representing the South All Starrs in North V South presented by the Toronto Wolfpack, you had a new position at Prop and you progressed rapidly and became arguably the pack leader for the Mayhem, what were the keys to your success?
Number one was without a doubt taking the time to study the game. Watching higher level games and drills really helped me learn the intricacies of the game. My first couple of games was me just using the athleticism I had and trying to run and tackle like a football player. After studying timing, technique, and strategies the game came a little bit easier to me.
This season you look leaner, meaner, what's changed in your approach this year to last?
Honestly, we have a really good team photographer and she captured just how fat I looked on film (laughs).  It was embarrassing and I was determined not to have that happen again. I took my off-season fitness more seriously and brought a better product to the pitch.
You've developed into one of the best line runners in the South; did that come naturally or was it a conscious development?  How have you worked on this part of your game, learnt and so forth?
I watched a lot of film on Boyd Cordner from the NRL and Ben Currie from Super League. I really like the way those guys attacked offensively and I tried to emulate my game after them.
What are your hopes and goals for 2017? How about beyond that; at what point will you say you've succeeded?
First and foremost our goal is to win the USARL South. We have put pieces together over the last couple of seasons and we are primed to make a run. A personal goal of mine is to be selected to the USA Hawks for a test match. I am confident in what I can do on the pitch if given the opportunity. When I first started playing league that was a goal I set for myself and it still stands.
Would you say that Rugby League is an ideal fit for military veterans like yourself?
Absolutely! Everyone who asks me about why I play rugby I respond to the same. Even after 12 years of service in the Army, I have never met a more welcoming, passionate, and loyal community of people. Rugby truly is a global brotherhood full of men and women who have your back, no matter where you come from.
You can catch the Tampa Mayhem in action online with live streaming games throughout the season starting at 5.15pm EST.
https://www.youtube.com/channel/UCFvEl0TFJwoi5FHR5c6eU1g