New York Knights vs White Plain Wombats preview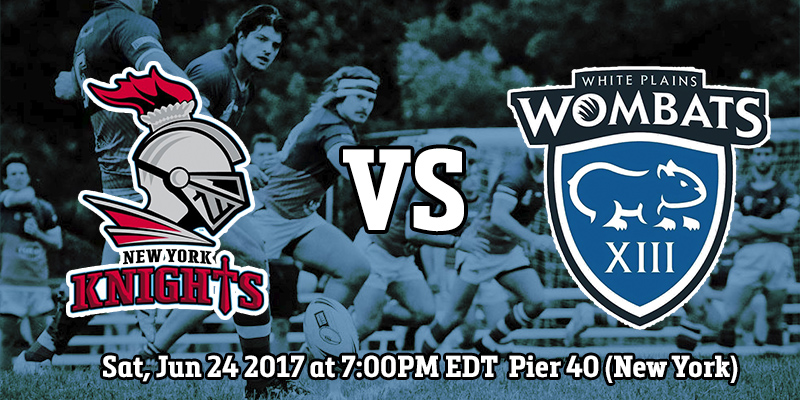 The Wombats have put up 200 points and only conceded 16 with the Knights almost keeping the pace with 184 points scored to 30 conceded.
What is the most impressive about the White Plains side is the fact that they only founded in 2016 and after a 58-12 defeat of former Champions Boston 13s in the season opener, which was then followed up with a 92-0 victory away in Rhode Island, people have started to take note.
Wombats' President Phil Schacter is extremely impressed with his side and is just looking to keep improving each time they take the field. "The last year has been great, we have steadily improved both on and off the field.  We were able to get to .500 last season and our goal was to improve on that. We are off to a great start and are looking to ride the momentum into the second half of the season" 
One theme of success at any level is the ability to treat each game the same. Of course this has its advantages and disadvantages but it is definitely working for the Wombats.
"The Boston 13s game was a battle and we were able to come out on top. We had a lot of guys step up for us in that game that helped us to get the win. The Knights game are a very good team and we expect another battle, but it's just another game on the schedule to us. We treat every game the same, regardless of the opponent."
The Knights have been around the game of rugby league for almost 20 years now and there experience will play a part in their preparation for games like this.
New York Knights' Ryan Mulligan is looking forward to the challenge: "This week's game should be a good challenge for our guys. Our group this year is an interesting combination of veterans and younger talent, so we hope we can continue to build on our early success and take that next step as a competitive unit."
The Knights' have scored above 50 points in all three of their league games this year and like the Wombats are just striving for better with every play and every tackle.
"Our goal every season is to develop a cohesive unit. We're very excited about our squad this year, we feel that our players are really buying into what we are trying to build and contributing in a positive way."
Both sides have proven that they can rack up the points and this could become a shootout, however having only conceded 46 points between them, it is clear that both of the sides are just as effective on the other side of the ball. Mulligan is a fan of the old adage that defense is key.
"Defense always wins championships. Obviously you can't win if you can't score, but at the Knights we firmly believe in setting the tone defensively first and letting the points come later."
It's a top of the table clash with a budding local rival and Mulligan is excited to what the future holds.
"I'm really enjoying my time with USARL. I've been involved with Rugby League in the US for over 12 years and it's great to see a group who are dedicated growing the game in this country. I think having another local rival [in the form of the Wombats] is a great thing. It will help to build the game in the local NY Metro area and gives local fans a chance to see more rugby league." 
Both sides will have an added incentive to perform this weekend as the North squad is set to be announced after this game and considering these two squads are sitting atop of the North Conference you can only think that they will dominate the selection, and rightfully so.
Phil Schacter isn't too concerned about the selection of the North squad and states that his side play for the Wombats first and foremost with anything else an added bonus.
"The Wombats focus is to perform each week against our opponents, we do not put any thought into selections as we play for each other." 
To many this may come across as a harsh way of looking at things, but it is the respect and passion for your club rugby that brings championships and with it, call ups to NORTH and Hawks squads. If players play their game then the selection will come, nothing will come from dwelling on things out of their control.
That being said, there is no greater honour than to play representative rugby, just look at the passion shown in the annual State of Origin series, and Ryan Mulligan of the Knights would love his side to be rewarded with call ups.
"I think making the North squad will be a tremendous honor for the players that are named. Our guys have been putting in some serious effort on the pitch and making the North squad will be a great reaffirmation of all their hard work. "
Whatever happens this weekend, one thing is guaranteed. It cannot be missed. It may only be Round Four but this could be the game of the season.
The game kicks off at 7pm EDT at Pier 40.