NORTH vs SOUTH All-Star Squad Announced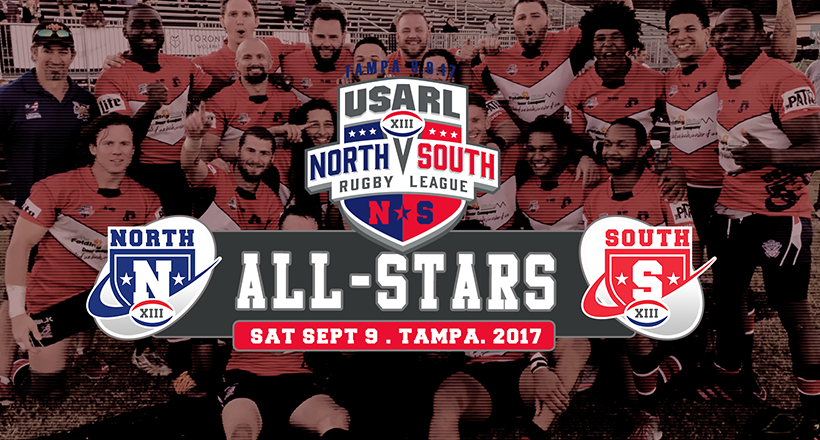 NORTH V SOUTH 'ALL-STAR' 2017 returns to Tampa on September 9th. This year will see the best of the USARL NORTH conference take on SOUTH Conference ('All-Star' Winners 2016) at Tampa Catholic High School. The game provides USA's best domestic players the opportunity to impress selectors for the 23-man squad going to Rugby League World Cup 2017 played in Australia, New Zealand and Papua New Guinea October 27 through to December 2.
USA Hawks selectors will use the 'ALL-STAR' game as a last selection trial for players hoping to force their way into the squad. The RLWC 23-man squad will be announced the following the USA vs Canada in Toronto on Sept 16.
Last year's Champions the SOUTH defeated the NORTH 38 to 32 in a game that went down to the wire. The event will again be hosted by Tampa Mayhem at Tampa Catholic High School Football Stadium, on Saturday, September 9 at 5:30pm carrying on the success of the 2016 match.
SOUTH Captain and Atlanta Rhinos Captain (2017 USARL Club Champions) Nick Newlin spoke about this year's event. "The NORTH V SOUTH 'ALL-STAR' game was a huge success last year and I think this year it's going to be even bigger. We have motivation to defend in the SOUTH as well as momentum from winning the Championship Final for the first time in many years. This game is a healthy platform for selection into the World Cup but on top of that, there is definitely a strong competition and fire to beat the NORTH."
SOUTH coach Sean Rutgerson and former World Cup player added, "It's a great "Origin" type atmosphere that's brewing with the rivalry. I've talked to a lot of the guys and we're looking forward to showcasing some new talent and strengthen what's already known about a good number of SOUTH players."
Sponsored by Last Tackle, a reality sports documentary 'Last Tackle - Inside the Toronto Wolfpack' currently broadcast into 50 million U.S. households via Eleven Sports will be again supporting the event as Sponsors. Episode 4 now released will receive 15 airings over a two week period and is also available for fans on Last Tackle's Youtube Channel. VIEW LAST TACKLE TV
Calling the game is Steve Williams alongside International Rugby League Journalist Steve Mascord in the USA promoting his new book 'TOUCHSTONES.' Mascord an avid fan of International Rugby League, spoke about co-commentating the game "I'm super excited to be attending the NORTH v SOUTH 'ALL-STAR' game in Tampa. To be commentating is even better! Overall what a great way to get the inside mail on the likely USA Hawks squad for the World Cup!" 
SEE ALL TOUCHSTONES USA TOUR DATES
TICKET INFORMATION
General Admission is $10 - GATES: 4:30pm | Kickoff: 5:30pm | Parking: FREE
BUY TICKETS ONLINE | ​CASH ONLY FOR ALL TRANSACTIONS ON GAME-DAY.
**Students and Staff of the Tampa Catholic High School will receive FREE ENTRY with their School ID. All CHILDREN 14 and UNDER will also be admitted FREE. Concessions and Rugby Merchandise will be on sale at the event.
LOCATION: Tampa Catholic High School: 4630 North Rome Avenue FOOTBALL STADIUM - Athletics Complex, Tampa, FL 33603 - View Map

NORTH & SOUTH Squads Announced
NORTH 'ALL-STAR' TEAM
Roman Lowery - Philadelphia Fight
Seimou Smith - Brooklyn Kings
George Reis - White Plains Wombats
Corey Jones- Brooklyn Kings
Randoph Porter - New York Knights
Domenic Defalco - Brooklyn Kings
Matt Walsh - White Plains Wombats
Andrew Kneisly - Philadelphia Fight
CJ Cortalano - White Plains Wombats
Josh Rice - New York Knights
Mike Elias - Boston 13s
Martwain Johnson - Delaware Black Foxes
Chris Frazier - NOVA
Dave Fattaglia - White Plains Wombats
Dane Wilcoxen - Brooklyn Kings
Abe Cohen - New York Knights
Ty Elkins - Brooklyn Kings
Jovanny Perez - New York Knights
Bryant Alexander - NOVA
Matt Almeida - Brooklyn Kings
Coach: Brent Richardson | Team Manager: Danny Hanson
SOUTH 'ALL-STAR' TEAM
Zac Blalock - Atlanta Rhinos
David Washington - Jacksonville Axemen
Terrance Williams - Atlanta Rhinos
Jason Paul Junior - Atlanta Rhinos
Josh Jackson - Central Florida Warriors
Taylor Alley - Central Florida Warriors
Joe Cowley - Atlanta Rhinos
Sean Hunt - Atlanta Rhinos
Tomu Osbourne - Atlanta Rhinos
Nick Newlan - Atlanta Rhinos
Hiku Malu - Atlanta Rhinos
Bart Longchamp - Central Florida Warriors
David Ulch - Tampa Mayhem
Kris Townsel - Jacksonville Axemen
Pio Vatuvei - Jacksonville Axemen
Justin Branca - Tampa Mayhem
Jon ST John - Tampa Mayhem
Mike Stoelling - Tampa Mayhem
Josh Diaz - Central Florida Warriors
Sterling Wynn - Central Florida Warriors   
Coach: Sean Rutgerson | Team Manager: Drew Slover