USA Hawks team against Jamaica announced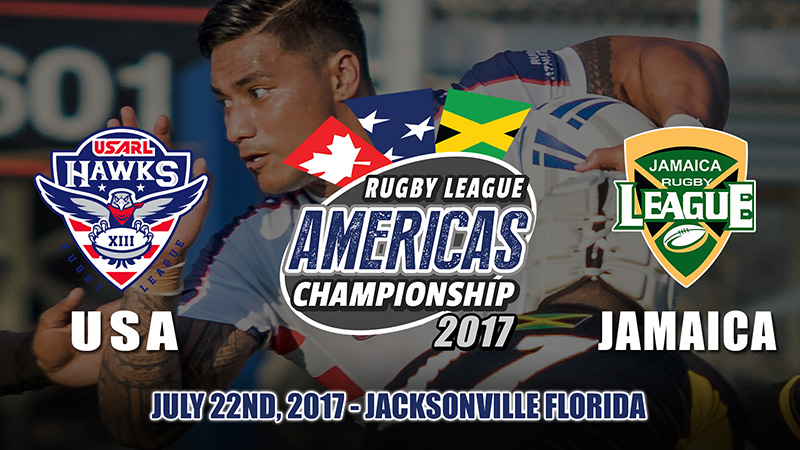 The following players have been selected for the first test match USA vs Jamaica, 5.00pm Saturday, July 22 2017, UNF Hodges (B) Field, (Jacksonville), FL. The selected players are from nine clubs across the USARL competition with seven players representing the USA for the first time.
Gabriel Farley (Philadelphia Fight)
Marcus Satavu (Brooklyn Kings)*
Junior Vaivai (Illawarra Wests)
Taylor Alley (Central Florida Warriors)
Jonathan St John (Tampa Mayhem)
Dominic DeFalco (Brooklyn Kings)*
Matt Walsh (White Plains Wombats)
Joshua Rice (New York Knights)
Kristian Freed (White Plains Wombats)
Andrew Kneisly (Philadelphia Fight)
Fotukava Malu (Atlanta Rhinos)*
David Ulch (Tampa Mayhem)*
Nicholas Newlin (Atlanta Rhinos)
Sean Hunt (Atlanta Rhinos)*
Martwain Johnson (Delaware Black Foxes)*
Bart Longchamp (Central Florida Warriors)
Chris Frazier (Northern Virginia Eagles)
Terrance Williams (Atlanta Rhinos) STAND-BY
* Indicates debut with the USA Hawks
Coach: Sean Rutgerson
Assistant Coach: Brent Richardson
Team Manager: Danny Hanson
Peter Illfield, Chairman of the USARL passed on his best wishes for Hawks Coach Sean Rutgerson and the entire team. "Sean Rutgerson, has a well balanced and competitive squad to take on the Reggae Warriors in Jacksonville, FL on July 22. The seven new caps; Satavu, De Falco, Frazier, Malu, Ulch, Hunt, Johnston make their first appearance for the USA and we wish them the best of luck."
Sean Rutgerson, Hawks Coach spoke about the squad. "Congratulations is extended to those who have been selected to represent the USA against Jamaica in the upcoming test match, the first substantial step this year for domestic players to be considered for RLWC2017 in October and November. "
Six of the squad of 17 are well experienced and carry on from the tough Rugby League World Cup Qualifier - Americas tournament back in December 2015.
Notable Kristian Freed is fronting for his 12th test match for the USA and will make an impact for the Hawks against the Warriors. Kristian hails from Brisbane, and with USA heritage has brought his family to White Plains, New York for the 2017 season and is making an impact with the White Plains Wombats in the USARL season.
Junior Vaivai MVP for 2016 (Rugby League Americas Championship) also returns to the USA from Australia for his 4th Hawks match in 2-years. Junior has America Samoa heritage, hails from the Illawarra competition in NSW and has NRL experience.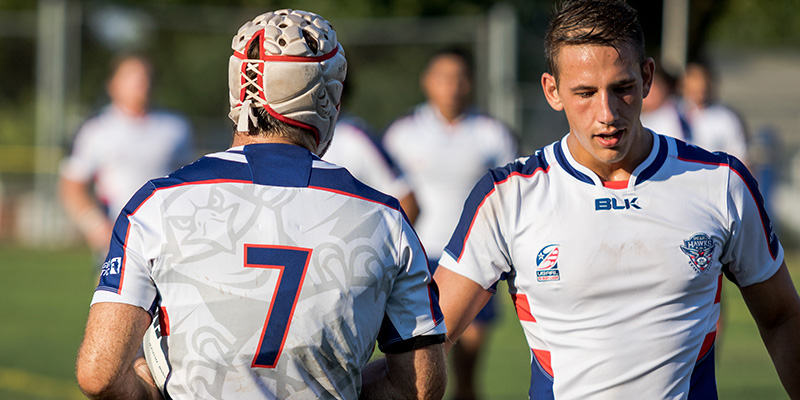 About the Rugby League Americas Championship
Following the success of the 2015 Rugby League World Qualifiers Americas – USA, Canada and Jamaica unveiled the tournament, 'The Rugby League Americas Championship.' Each year, the three nations will play the other to determine the champions of the Americas region. 2016 saw the USA win the inaugural tournament defeating both Canada and Jamaica.
Game I: Jamaica 2 vs Canada 38 (Levitown, PA July 14 2016)
Game II: USA 54 vs Jamaica 4 (Philadelphia, PA July 23 2016)
Game III: Canada 8 vs USA 14 (Wilmington, DE Sept 24 2016)