USARL National Championship in Atlanta today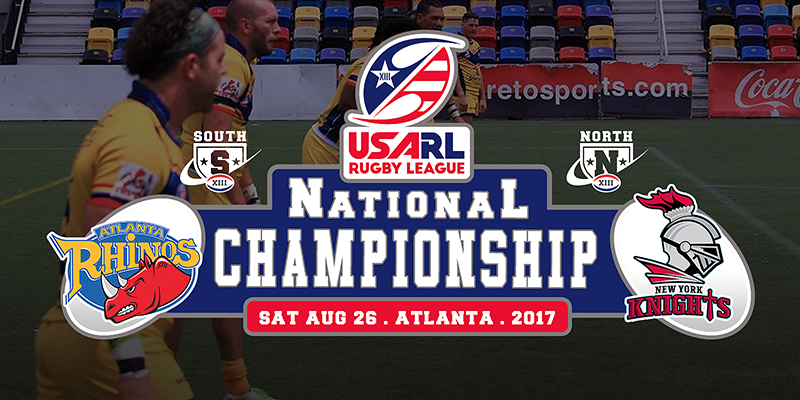 Season VII will see a new USARL Champion crowned for the very first time with neither team having won a USARL championship to date. Both teams won their respective conferences with SOUTH Champions Atlanta Rhinos (8-1-0) and NORTH Champions New York Knights (10-0) creating one of the most anticipated finals in the USARL's seven year history. This was the first year Philadelphia has not made the playoffs despite being the most dominant USA team winning four championships including 2016.  
In 2015, Atlanta only in the second year as a Rugby League competed in the 2015 National Championship losing to Boston 44-12 recording the biggest losing margin for a USARL National Championship. Two years later they have potent strike weapons on their roster including captain Nick Newlin, Terence Williams, Joe Cowley and Hiko Malu.
Atlanta coach and forward (#9) Jordan Smedley spoke about the experience gained from the 2015 Championship Final loss. "We've come a long way since the club formed in 2014 especially with introducing Rugby League to the city of Atlanta. The biggest thing was an emphasis on culture and establishing a core of USA players that we could build around. Today our talent pool is extraordinarily high and thanks to the international program, many of our players have gone on to develop themselves even further."
New York Knights (10-0) are also a force not to be reckoned with. Under the coaching of Guillaume Cieutat, the Knights are a club already with a rich history of championships in their trophy cabinet winning several with the former AMNRL (previous governing body).
Coach Cieutat reflected on the success that Knights have built in the past, "That's always been our primary goal at the Knights: Developing young American players, making sure the game of Rugby League has a positive impact in their lives. You obviously need foreign talent to build the structure in the early days and offer a reference point to locals who can't frequently witness top level footy, but that needs to go away when domestic players are emerging and ready to take on more strategic roles. That's what we've done this year with only 1 true import in our team and it's extremely rewarding to observe how sophisticated the boys have become. The old "run hard/tackle hard" game plan is certainly not enough for them anymore, they expect much more details which is great stimulation for the coaching staff."
USARL National Championship | Atlanta Rhinos vs New York Knights
Today 6:30 PM · Life University
1269 Barclay Cir, Marietta, GA 30060
LIVESTREAM CLICK HERE:  YOUTUBE > Purple Moose Media
POST MATCH PARTY:
Creatwood Tavern is the official social after party location for the USARL Grand Final this Saturday! Please join both teams after the game for great food, Yuengling beer specials, meet and greet with the players and the only roofyop bar in Smyrna!
Creatwood Tavern: 1090 Windy Hill Rd suite 300 Smyrna, Georgia, GA 30080