Knights and Kings collide for all New York NORTH Conference Final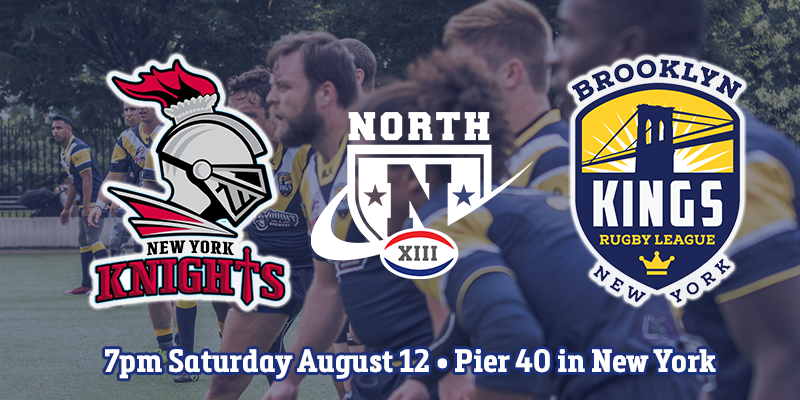 Brooklyn battle hard before putting Wombats to the sword
The Brooklyn Kings have secured their first Conference Final by defeating the White Plains Wombats in a physical encounter at Bushwick Inlet Park, Brooklyn. It what was a hard fought first sixty minutes, Brooklyn's resilient defense opened the door for flurry of last minute Tries breaking White Plains and the Wombats eventually losing 46-10. Up 18-6 at half-time Brooklyn, MVP Shaun Chowdhury truly brushed off a knee injury with a return to form.
For Brooklyn a club in only its 4th year of operation, they've secured their first Conference Final and are one win away from National Championship played in either Atlanta or Tampa on August 26th. Currently at (7-2) both their losses came against the New York Knights with a narrow loss 30-26 on July 22 weekend.  
Kings Coach Brent Richardson spoke about the win against White Plains. "It was a great team performance to win our first ever playoff game. White Plains are a quality opposition and we knew we had to shut down some key players for them and work hard on our defense which I believe we did. It was good to see our attack fire at the other end and to have the win in front of our fans, friends and family will be something the players will not forget in a hurry."
Looking ahead to the New York local derby, :The Knights are the benchmark of the NORTH Conference and undefeated this year. To give yourself a chance against them you have to be disciplined and play the full 80 minutes so we will be doing everything this week to ensure we are prepared for that. It is exciting to see a rivalry such as this for the NORTH Championship game and i know the players will be right up for it."
New York Knights Remain Undefeated
The New York Knights defeated the Northern Virginia Eagles 42 - 20 after leading 24-10 at Halftime. Halfback Neil Thorman kicked seven from seven goals and Jovanny Perez #6 added two Trys to his name. Mike Brown wearing #11 was a standout in the forwards also crossing the Try line earning him their coaches MVP for the day.  
The New York Knights (9-0) remain undefeated while Northern Virginia Eagles (4-5) finish the season against a team they lost twice to during the regular season. New York has yet to win a Championship in the USARL having only entered in 2015. The Knights competed in the AMNRL until it folded in 2014, and joined the USARL the following year. In the AMNRL they won season championships in 2002, 2009, 2011, and 2012. In 2016, the Knights bowed out of the NORTH Conference Semifinal to Boston 13s 19-12.