Mayhem looking to upset Rhinos Stampede - SOUTH Conference Final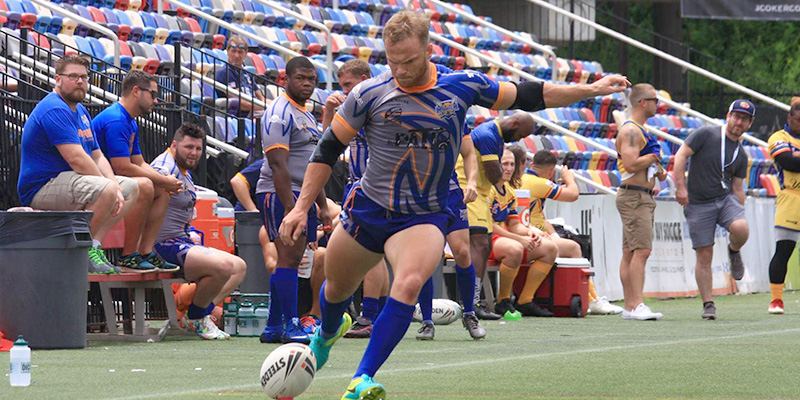 Cook scored his second hat trick in the home playoff win against the Axemen to take his try tally to 13 for the season in only 6 games.  We caught up with the new try scoring record holder to gauge his thoughts on the upcoming USARL South final this Saturday and how he thinks the Mayhem have fared in 2017.
It's certainly been a great season on a personal level; were you renowned for your try scoring feats back home in Newcastle?
No I'd say if I was known for anything it would be my aggression and defence. I loved the collision when I was younger and physically I'm paying the price for it now as I get older. But it's certainly been a nice year scoring meat pies (Tries).
What persuaded you to give the USARL a go? Would you recommend it to players back home?
Conveniently, Tampa is where my girlfriend is from so I was always heading over for a holiday and at the time of booking I had no idea the Mayhem even existed.  That was until my good friend Ben Nicoll who coached Jacksonville last year suggested I play and that got the ball rolling and here I am today.  I love the coaching role and opportunities it has presented; I'd highly recommend it to anyone.
Coaching a team is never easy at the best of times but coaching a team in a foreign country with limited Rugby League experience is tougher still.  What have you taken from the experience and what has surprised you the most?
I've done a little bit of coaching back home but I always considered myself a laid back do as I'm told type of guy but I've actually really enjoyed the change to coaching. I knew the guys had limited game time played over three or four years. Then there would be any new guys that would turn up who'd never touched a league ball before so I knew basically we'd have to start with a foundation and build ourselves up progressively throughout the short season. To everyone's credit they've risen above and beyond at training to where we sit now in the South Final and I couldn't be prouder of what we have achieved in such a short space of time.
What progression have you seen from within the group during your time at the club this year?
The basics... At my first training sessions there were guys that couldn't play the ball properly; tackle technique, ruck control and speed were poor and at times, a simple catch and pass. I knew I had some athletes and a great bunch of guys to work with so we just worked hard on these techniques and it's been great to watch it evolve. One thing I can't speak highly enough of is their respect. They give to me by listening and they want to learn which makes the job easy and enjoyable.
When things fall into place it can be rewarding.  Was there a point in your time over here that you thought… nailed it; proud of the boys?
I've had moments that I've been really happy with; things that we've done at practice or during games. I know having the Mayhem's first playoff win last week was great for the local guys but I think the jobs still on the table and think I speak for everyone in saying that if we get the chance to, our proudest moment is going to be holding that National championship.
What do we have to do to get over Atlanta this week?
We think we have a good game plan against Atlanta but we just need to hold the ball and not make the mistakes that we made last time we played up there. Get through our sets, kick chase and tackle. League is a simple game when you break it down; run, tackle, kick and score.
The USARL has its challenges. Certainly compared to the bigger Rugby League playing countries, certain elements lag a long way behind. What would you personally like to see implemented to improve the state of the game in the US?
I understand that it must be a tough gig trying to get the sport off the ground and I think the USA rugby league have done a great job so far, as have the owners, coaches, players and sponsors of the league. But the little guys in blue shirts being referees need more help. Without referees the sport ceases to exist! There has to be more incentive for guys to want to pick up a whistle or flag and get involved. Put more clinics and training on for the officials to learn the game. It's not an easy job having 26 men on the field giving you a hard time so making it worthwhile has to be a priority in my opinion.
Who at the club has impressed you to the point they could potentially 'step up a level'?
There have been a lot of guys that have really caught my eye; Guys with experience ranging from two competitive games to ten under their belt. With good coaching and persistence, who knows what could happen. But if I had to choose one guy I'd without a shadow of doubt say Andrew "ZULU" Zuluaga. He's only 23 years of age and has played maybe ten games in his career. He's got the athletic ability and physique that NRL team's back home dream of. He just needs a big offseason in Australia or England with some good coaches to learn the game and skills you need to be competitive at a higher level.
So, go on, whom is the laziest trainer?
Laziest trainer.... one guy hasn't made a fitness Tuesday session all year. He's a genius when it comes to disappearing on Tuesdays. As for the rest they all give 100% most of the time and if they don't it's not hard to tack on the extras.
Which of the boys spends far too long getting ready?
They are all pretty good as far as time management in front of the mirror. There are no oil paintings amongst them but without mentioning names, one guy likes to apply fake tan before games… Would not have gone down well with the guys from yester year I wouldn't think.
Will we see Matthew Cook in a Mayhem jersey beyond 2017?
I'd like to come back for sure. It's been one of the best experiences of my life; I've met new people, got to know my Mrs family and friends and avoided the Australian winter here in sunny Florida. Giving up work for three months is a hit to the back pocket but you never what could happen. If the stars align I'll be back.
You can catch the Mayhem in action in the South final this Saturday at the home of Atlanta Rhino's; livestream via www.pmmlive.com at 1.45 EST.
#embracethemayhem
*photo credit: Andrew Tomlinson